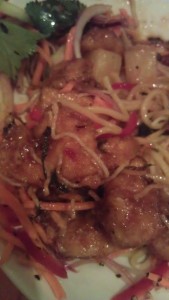 19075 I.H. 45 South Suite 480
Conroe, TX77385
I eat at this location about twice a month. There is always a line which moves really fast. The staff as this location have always been wonderful and the food also comes out really fast! Someone is helping by assigning a table if they are really that busy. The food is fresh with the vegan and spicy selections clearly marked. I happen to love the spicy food. In some cultures if your nose is not running it is an insult to the chef. Spicy will make your nose run and your taste buds tingle. You can opt to get lo mein noodles instead of rice with your meal. The sauce on the noodles is enough to flavor the noodles or rice.
I have not eaten everything on the menu yet because I really like what I usually order. I highly recommend the Caramel Chicken with it's refreshing slaw of carrots, red onions, cucumber, and cilantro which is then tossed in a simple dressing made with rice wine vinegar. They have just brought it back out not long ago. This dish will be what I normally order until it is gone again. I had my Caramel Chicken with lo mein noodles instead of rice for a change of pace. All I can say is yummy!
My kids love to get the Honey Seared Chicken with lo mein noodles which also is good but does not have the layered flavors of the more complex dishes. I am hoping they bring back the Korean BBQ with chicken which was also very flavorful and spicy!