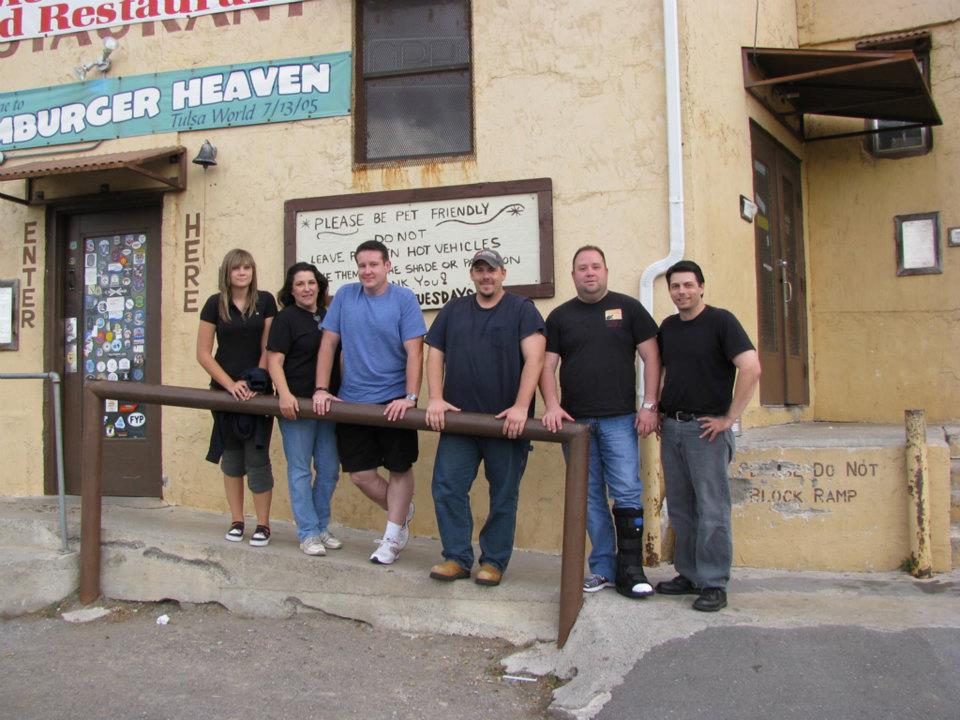 Meers is really ….The Meers Store! This place is located on highway 115, 1 1/2 miles north of the Wichita Mountain Wildlife Refuge in Oklahoma. To get there take I-44 to Hwy 49. Travel West 4 miles to Hwy 58. You will then turn to the North for about 5 miles to the turn-off to Meers just follow the signs. Now turn to the West for 4 miles and you will be there
There is more than burgers but wow are they ever good? Meersburgers are made with 97% lean grass-fed Longhorn beef from Longhorn they raise themselves.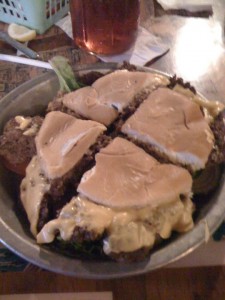 On their menu it says:
Our famous burgers are cooked medium well done and are served with mustard, dill pickles, tomatoes, purple onions, and green leaf lettuce. We use American cheese because our burgers are American burgers. We have been fixing them this way since the beginning, for over 50 years and this is the way our cowboys like them. 99% of our customers like them this way so this is why we respectfully call this burger (and your hats off boys) the COWBOY BURGER.
Some folks like mayo on their burgers instead of mustard but call burgers with this a SISSY BURGER! Other folks like ketchup on their burgers instead of mustard. We call burgers with this a YANKEE BURGER! Cowboys believe ketchup belongs on fries, not beef.
A few folks out there want all three—mustard, mayo, and ketchup—on their burgers. The poor fools are simply confused.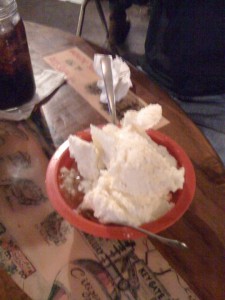 We don't care how you want your burger fixed. We will fix it any way you want it. We cook your burger to order. Try one with bacon, jalapeno or both. However, if you order something other then a cowboy burger, please be patient; our cooks rarely encounter sissies, Yankees or confused souls.
Please note that there is one thing we simply cannot bring ourselves to do; We cannot fix an open-faced burger. The secret to our success is the blending of flavors that occurs when steaming hot Longhorn beef is placed on fresh onions, pickles, tomatoes and leaf lettuce (and mustard!). You can't get the flavors to blend well any other way. This is our secret recipe, the secret to our success!"
The place is just really great! I have gone in and sat right down to order and there have been times I have waited for 2 hours. People come from all over because the place has been written up numerous times. It was known as one of the top 10 burger joints in the USA and I can understand why.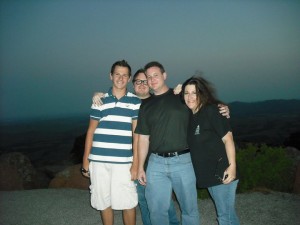 I have had fried green tomatoes, fries and fried pickles which are all good
This place is not just for the burger. You must…. I mean must get the homemade peach cobbler with homemade vanilla ice cream. OMG it is just good stuff. You will leave hurting from eating every bite too. You can work it off by going into the wildlife refuge to waddle around and take pictures of buffalo. Then top it off with a trip up Mt. Scott for sunset if it happens to be that time of day. Wow what an experience is all I can say. Memories are great!
It is a cash/check only place.