14915 North Fwy
Houston, TX  77090
Let me begin by saying the service at this place is horrible! I thought I was going to like the food better but I didn't. The food was better than edible but really just ok. This was a big disappointment for me because I had been looking forward to dining here. Some acquaintances had given me the impression that it was an upscale italian restaurant. When I went through the doors I thought why would anyone have the impression it was upscale. The menu prices were higher than some italian places but the atmosphere was very casual. The tables are covered in paper and have crayons for kids or adults to doodle.
The waiter was quick to come over and before I knew it he had written his name on the table. He was so fast I didn't even hear him say his name.  My initial impression was that we were going to have good service that night. He also brought wine and bread with a plate of seasonings for us to pour olive oil over it. He then asked for our drink orders and if we were ready to order. I told him that I needed a few minutes to go through the menu and was surprised that he came back as fast as he did. He sat our drinks down and again asked for us to order. I told him I had not yet gone through the whole menu and wanted his opinion on what was good. He went through a few items I had not noticed on the menu and then left us to ponder what we may like to try.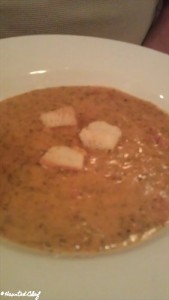 Guess how long he was gone? 30 minutes! He gave us so much time that we were able to study the menu in detail. We had decided what we wanted and put the menus down. We kept looking for him and noticed it seemed like he had half the restaurant because he was the only one running around. New people were coming in and he would give them the same treatment he had given us. I kept picking up the menu to look because I was bored. I then became upset so I started to count the people in uniform who were doing various things without helping customers. I counted 8 but there could have been more in areas I couldn't see.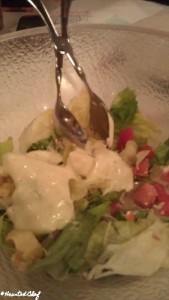 The bread was gone and drinks empty by the time he came back. So we placed our order and he took a few glasses to refill. He did not come back to the table until the food was delivered and he came without the drinks. My daughter had to ask for her drink by the time the entrée came before he went to get it. As the evening progressed I even had a girl ask me to move my feet so she could sweep!!! hahah!!! Can you imagine. Now lets move onto the food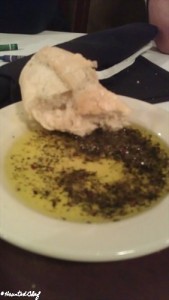 The bread that was brought to the table was ok as was the dipping oil but not as good as it had looked.  There was no other loaf of bread delivered to the table although in all fairness we didn't ask for more. We ordered tomato florentine soup which is a mix of tomatoes, garlic, onions, dill, fresh spinach and cream. This was really good! I should have stopped here because I would have had a little bit of a different opinion of the place. We also ordered a house salad which was served family style. It had mixed greens, diced tomatoes, artichoke hearts and dressing. The salad was just like I thought it would be… salad. It is hard to mess up a salad.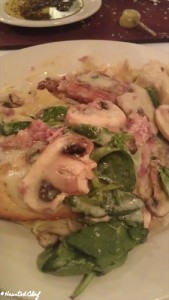 I love chicken piccata. so when I saw it on the menu I knew that was what I wanted. Their menu states is lightly breaded chicken breasts sautéed with mushrooms, artichoke hearts, prosciutto and capers. To be finished in a lemon and white wine pan sauce and served over angel hair pasta and fresh baby spinach. I saw 2 capers on my plate. Seriously. Where were they? I could not taste the lemon at all. The sauce just tasted like a butter sauce but I couldn't identify even the white wine. Did they accidentally leave it out or did they run out of ingredients? The dish was ok but not what I would call piccata. I was so disappointed!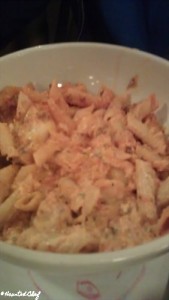 We ordered tomato basil chicken which is grilled chicken breast, basil, garlic, tomatoes and angel hair pasta with marinara sauce. You could almost not see any marinara and it tasted dry. Would not order again. It was ok don't get me wrong but you don't want to pay for dry pasta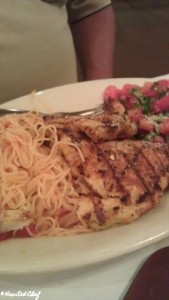 The last thing we ordered was baked ziti which was ricotta, mozzarella cheese baked with bolognese sauce. Now this dish had all the wine. You could almost not taste anything else but wine. It was alright but I would have liked the flavors to be more blended.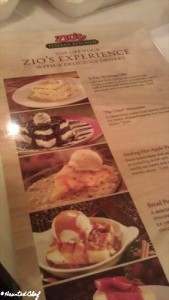 I asked to see the dessert menu and thought about ordering. The next thought I had was that at best it was most likely prepackaged food and written up as wrong as the rest of the things on their menu. I was not going to give them any more money than I had already given them for the night. I may have liked the dessert the best though but I will never know. I will not be going back to this location.