24814 Stanolind Rd
Tomball, TX 77375
We decided to go for a drive to check out Mel's and their famous burgers. I am really glad that we did too. We walked into a very down home country cafe. I bet many of the patrons even knew each other just because of how out in the middle of nowhere it was. Red checkered plastic table clothes with paper towel holders were just waiting for all the mess we were getting ready to make with our meal. I took a look around at what people were eating and noticed for the most part one of two different plates it seemed. Catfish was stacked high on several plates with a bowls of some kind of goodness. I also noticed cornbread and salads which seemed to go with the catfish. Other plates that people had in front of them were all burgers of different sizes.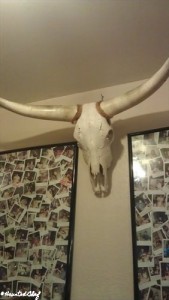 The walls of the place had pictures of people eating the famous mega mel burger and they all looked really happy. This is what it says at Mel's/ How to get your name on the wall/ You have 2 hours to eat the Mega Mel Burger and must follow the rules.
1. IF YOU LEAVE ANYTHING IN YOUR PLATE, YOU WILL BE DISQUALIFIED.
2. IF ANYONE TAKES ANYTHING OFF YOUR PLATE, YOU WILL BE DISQUALIFIED.
3. YOU MUST BE ABLE TO WALK AND TALK AFTER EATING THE MEGA MEL BURGER.
4. IF YOU GET SICK AT ANY TIME, YOU WILL BE DISQUALIFIED.
5. YOU HAVE 2 HOURS TO EAT THE MEGA MEGA MEL BURGER.
6. WE WILL STOP YOU FROM EATING IF AT ANYTIME WE FEEL YOU ARE GOING TO GET SICK.
7. THE MOST IMPORTANT THING IS TO REMEMER THAT THE MEGA MEL BURGER IS A FUN EVENT AT MEL'S COUNTRY CAFE, SO PLEASE HAVE FUN WITH IT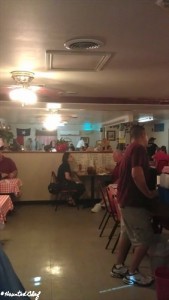 Going through the menu the prices looked fantastic. I had no idea how big any of the burgers were other than the mega mel. Seeing pictures of people including children plastered on the wall with a mel burger made me feel I could at least try a double for 4.95. I also ordered the hand battered onion rings basket for 4.75. The waitress told me they had cobblers and chocolate pecan pie with vanilla ice cream. I wondered if maybe I should have ordered a smaller burger because the dessert sounded tempting. They do have a regular hamburger for 3.25! I was sitting there thinking about the cobbler from meers and wondering if mels cobbler could be better than that bowl of heaven?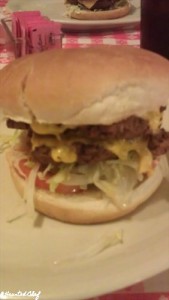 The food came out and I was thinking I really should have got the smaller burger. The first thing I decided to pop in my mouth was an onion ring. Oh my were they good! Hand dipped in beer batter deep fried to perfection goodness. The burger was so thick I decided to cut it in half to facilitate getting it into my mouth. That is a really good burger! The meat is good and cooked to medium well unless you ask for it to be cooked differently. Even being cooked medium well the burger juices ran down my arm onto that red checkered table-cloth. Yes I actually finished it! The service was great which is refreshing for a change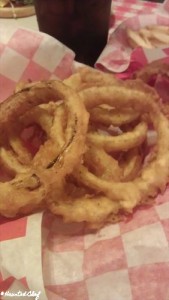 Since this was a special memory making trip I decided to go for the dessert and got the peach cobbler with vanilla ice cream. It was the perfect ending to the meal. The cobbler was not too sweet with a hint of cinnamon. All the way home I had that yummy taste of cobbler lingering on my taste buds which made me very happy.
This is what the onion rings and fries looked like. They were good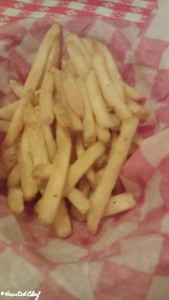 dipped in ranch dressing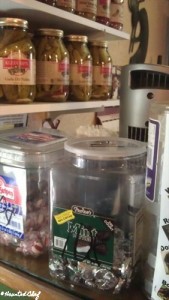 When we went to check out the girl wanted to make sure we loved everything. She even asked us what we had to eat and then said she can't eat a double on her best day. She told us she has hard time getting down a regular burger. I really enjoyed people watching and the food here. I am looking forward to going back and trying some of their other menu items like chicken fried chicken.