Flying Dutchman Restaurant Oyster Bar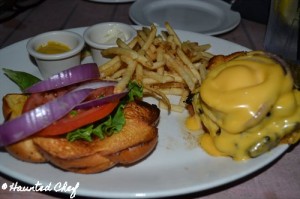 9 Kemah Waterfront St
Kemah, TX 7756
This is a seafood restaurant but we were told they have amazing burgers. We stopped here just to try one. This is my plate before I put it together. See the toasted bun? Look at all that cheese!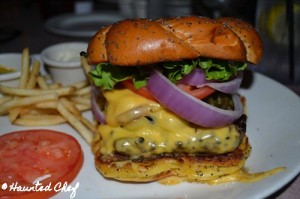 Here it the burger after I stacked it. YUM!!! This is one of the best burgers ever. The buns are chewy, soft, buttery and toasted. The meat is seasoned perfectly with something I can't put my finger on. The cheese is plentiful and really tasty. The veggies are fresh. Put them all together and it makes one really good burger. The juices were running down my arms and all was well the world. The next time you are in the area make it a point to stop and grab one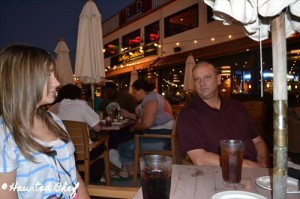 We sat outside on the huge deck area because the weather was really nice. It would have been better for us to eat indoors though because the mosquitoes started attacking right after we got our food. It is a good idea to spray yourself with bug spray before you go if you are staying outside. As we were leaving we did notice a can of bug spray at the desk that could have been offered by our waiter. I am not sure why he never offered it because we told him we were being bit. On the news the next day there were complaints about how bad the mosquitoes were everywhere.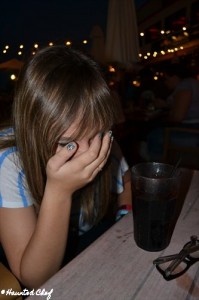 This is my daughter right after we embarrassed her by telling our waiter she thought he smelled really good. He laughed and said he was wearing was Unforgivable by Sean John. The rest of the night we refereed to him as Mr. Smelly Good Man where we had him laughing. The service this night was pretty good other than the lack of bug spray. I do not know if part of it was because of the compliment we threw him or not. It is a great idea to toss out compliments though!