Do you want to know something paranormal (beyond the range of normal) about me?
Confession…
I probably have at the very least 500 recipe books and I bet I am most likely not anywhere close to the real number that I have. I know I have a compulsion to acquire them haha. I have a few that are more personal because they are scribble done by me while talking to family or researching recipes. One of these personal books is old and is filled with wonderful family memories.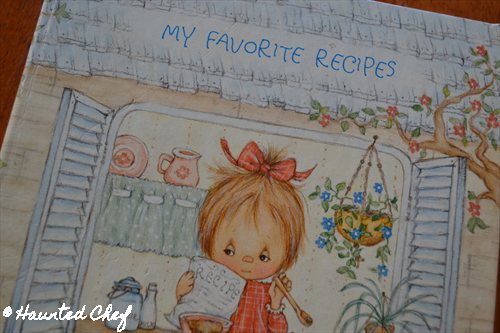 This was my first recipe book. I spent hours sitting with family picking their brains writing down recipes. I am so happy that I was able to do this now! Several of the people who helped me fill the book up are no longer alive. I wrote down word for word what they wanted me to do to recreate the recipe. I remember sitting at the table with my Great Grandmother as she would talk to me about food on the farm and other stories. I have decided share those stories with you along with those recipes through my blog.
Haunted Chef doesn't just mean paranormal cooking. To be haunted is to have compulsive concern with something. It can be memories that come up that are negative like post traumatic stress disorder. It can also be pleasant memories that make you smile. The word haunted is not something that always means something negative. Actual hauntings can sometimes bring peace to people who are grieving the loss of someone.
I feel blessed that I am able to share these recipes with my family and pass the information on down the line. I also feel that sharing these recipes with you is giving you an opportunity to sit at our table as extended family members. Did you know that the farthest apart anyone can be related is 40th cousin! Mathematical and genealogical studies show that the most recent common ancestor of every person alive today was someone in Europe about 600 years ago. I will go more into that in another post
This picture is a great example of being haunted by a pleasant memory. I picked up my recipe book to transcribe a recipe for you and wham there is something jogging a memory. See the snoopy sticker sticking out from behind the pages? I loved snoopy! That is why I bought a set of stickers and put them everywhere. I also had a stuffed snoopy that I slept with every night as a child. Here is a major confession for you…..I only stopped sleeping with it when I got married…. haha!!! It would have been too embarrassing to continue so I stopped. Don't hold that against me because I know you too had a childhood something like a blanket, pillow or stuffed something

Did I make you remember something??
Hoping to haunt your table with pleasant memories!
Cathy
The Haunted Chef