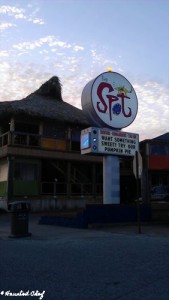 3204 Seawall Blvd
Galveston, TX 77550
 http://www.islandfamous.com/thespot/
This place is right on the seawall in Galveston. You can park on the seawall or in one of 2 parking lots on the side going around to the back of the building or the other lot across the street in back. It will keep you entertained for hours if you are trying different margaritas, people watching or eating a burger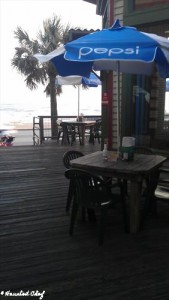 They have wheelchair access and plenty of places to sit in or out of the buildings.
You go inside to order your food and then you go seat yourself wherever. They give you a paging device to let you know when to go get the food. Comparable to a Fuddruckers burger they also have a burger bar for you to get your toppings. This is how you get your burger with a side of waffle fries.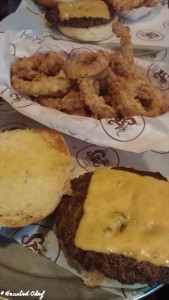 Here is the yummy onion rings I ordered this night which were especially good!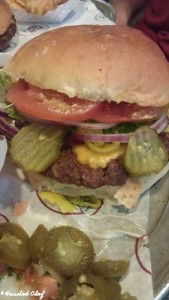 This is what my burger looked like after I went to the topping bar. This burger was really good! They could have cooked it less to make it more juicy but still it was good. There was no waiting which is a huge plus for me when I am hungry.