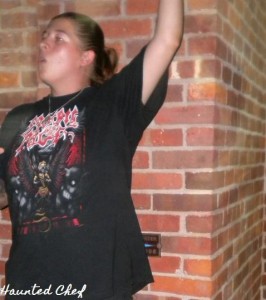 I posted an article to my blog titled "Beware of Scams in the Paranormal" on December 19, 2012 in order to clear my conscious of information I had regarding someone who was scamming the public. I have been asked to prove my case against Texas Ghost Tours and Tracy Richardson (Simpson and Coulter) on a blog talk radio show she started just to slam me with the public. I was not invited to participate nor did I even know to listen in at the time the radio show aired. I have been blocked by Tracy for over a month so I could not see anything she has been posting. I sent her an message on Saturday Dec 22, 2012 on her Texas Ghost Tours Facebook page and sent an email to sign a release for me to post my evidence. She has not messaged me back through there. She has however verbally given me permission numerous times now on that show which you can listen to in its entirety here http://www.blogtalkradio.com/texas-ghost-tours/2012/12/21/paranormal-un-unity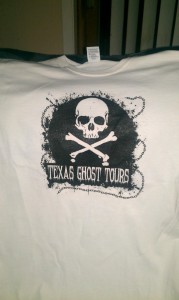 Here are the parts where she wants me to put it out to the public. Without the signed release from her I am using her show for the permission to post the evidence I have. All of the highlighted words are audio files for you to listen to. If you would like to listen just click on the links.
get out in the open i did nothing wrong
lets get ready to rumble nothing to hide bring it on
________________________________________________________________________________________________
I sent an email response to her husband who had posted to my blog with questions. He responds with lies and also threatens me.
From: Cathy Nance <cathy_nance@yahoo.com>;
To: c_simpson21@yahoo.com <c_simpson21@yahoo.com>;
Subject: blog post
Sent: Thu, Dec 20, 2012 6:06:36 PM
Chris,
I saw you posted for me to contact you about my blog post. I have spent days crying not knowing if I should post that or not. I did not put down everything I heard nor everything that happened. I posted your links so people could contact you directly and you are free to tell them anything.
Cathy
From: Chris Simpson <c_simpson21@yahoo.com>
To: "cathy_nance@yahoo.com" <cathy_nance@yahoo.com>
Sent: Thursday, December 20, 2012 6:24 PM
Subject: Re: blog post
You've been crying for days??? Because of this, read what you wrote. That doesn't sound like someone so sad. Your causing drama that is not true and you know it. What did you think we were gonna say!!!!! No one has even mentioned all the drama you have tried to cause with other teams. Nor have you even called Tracy to ask her about anything. And you put our info on there to help with the slander against Tracy not so that they can contact her to say what is really going on. So cry away!!!
From: Cathy Nance <cathy_nance@yahoo.com>;
To: Chris Simpson <c_simpson21@yahoo.com>;
Subject: Re: blog post
Sent: Sun, Dec 23, 2012 8:21:48 PM
I am providing the public information which they need to make a decision if they want to do business with your company. One of the hardest things I have ever done was come forward. I knew it was going to lead to name calling and whatever drama you're getting ready to dish out to me. Everything I wrote in my blog is the truth and I have proof. Chris perhaps you did not know that she did not have permission. Perhaps you too are a victim in her lies. I feel bad for all of this. I am not going all over the internet nor calling anyone talking about this. I only posted to my blog. You on the other hand are now doing radio shows and blasting it everywhere you can think of. You do not have proof to back up your claims I on the other hand do.
Tracy kept saying cowboy up or pony it up. Do you really want me to make the evidence available for the public? I sent a message to the facebook page for Texas ghost tours asking you written permission to go public. Last night I listened to the radio show and was surprised to hear Tracy repeatedly verbally giving me permission. I could use all of that right now to make it public. Before I hurt your reputation anymore I suggest you stop and truly believe I have all he proof to back up my claims and it would be humiliating to you. I posted the blog to ease my conscious so I would know that no matter what kind of business you conduct in the future I at least got my personal experience out there for people to either believe or not.
I am not in control of what multiple teams are saying about you. I am not going around talking to multiple teams talking about you. I simply posted to my blog. If you truly want me to pony it up or cowboy it up sign the release I sent the other day. I will also attach it here as well.
Cathy
From: Chris Simpson <c_simpson21@yahoo.com>
To: "cathy_nance@yahoo.com" <cathy_nance@yahoo.com>
Sent: Monday, December 24, 2012 12:45 PM
Subject: Re: blog post
Well if you have the proof. I would like to see this as for other teams you know who I'm talking about if this your way of clearing your head hell of a funny way to do this.. it seems to me as just more shit talking an stuff made up I know for a fact a few of these claims are bogus because of things you say I was a part of not my wife so if you have it again I say show it to me I'm not gonna argue I'm not gonna call names this is things you started . I've been dealing with shoty thing before I want you to really ask yourself is this something you want to get into I am a man of my words an I'm not gonna sit by an let you talk shit an not do something about it I respect were you came from an are trying to go with this but when you make shit up you put yourself in question not your team you think you might wanna talk to some of them an have your coming to Jesus moment with them too you said somethings about a few of them also that's why I'm not inclined to believe a thing you say ….all this is is name calling teenage bullshit grow the fuck up act like an adult …I'm in noway perfect but I can see when its bullshit or someone just not happy an lashings out Tracy has asked for the paperwork which you still haven't sent I have the emails am yet instead of trying to deal with it you post bullshit you make me sad shows just what kind of person you are now if you wanna resolve this give me a call we can meet or send another email text whatever just do the righy thing before you go out making accusations an stirring up drama
From: Cathy Nance <cathy_nance@yahoo.com>;
To: Chris Simpson <c_simpson21@yahoo.com>;
Sent: Monday, December 24, 2012 at 1:56 PM
Subject: Re: blog post
As a co-owner of the company I advise you that you are held liable for anything your co-owner wife does. Do your own research! My team and I helped your company raise money to save Stewart mansion. The money was to go to Galveston Historic Foundation. Your company did not have permission from the owners of the property. Please call the Stewart Mansion Owners Todd and Laurie Edwards yourself at 713.355.8855 and ask them if they gave her permission. Your wife did not give the funds raised to Galveston Historic Foundation. Call them at 409-765-7834 and ask them yourself how much money she gave them
What do you mean by "is this something you want to get into I am a man of my words an I'm not gonna sit by an let you talk shit an not do something about it" Is that a threat?
What are you talking about with "you might wanna talk to some of them an have your coming to Jesus moment with them too you said somethings about a few of them also that's why I'm not inclined to believe a thing you say" I never talked about my team or members of my team with you ever. I helped your company by doing 3 public events to raise money for what I thought was a good cause. You were never there for any public event. We also helped your company when she canceled one of the public events to come assist her with her tours. We went on one walking tour that night and after that left to go eat. She did not tell us what to do or why she called us there so we simply walked around not knowing why we were even there. I called her prior to getting in the car to make sure we were a go with the night and she assured me there were 6 paid people and to come on down. It was a waste of time and gas to come down there.
For your records once again…..
Here is the scanned document which I took a picture of and sent her when she asked for it. These are the names which I also already sent her.
(I actually sent her the types out correct names. I am just trying to protect the people here. Law enforcement/lawyers can have the names)
Alxxxxxxxxxxen 10/05/12 81.19 online
Caixxxxxxxxxxessen 10/05/12 81.19
Shaxxxxxxxxxxble 10/05/12 82.00
Domxxxxxxxxxxzza 10/05/12 81.19
Gxxxxxxxxxxod 10/05/12 81.20
Kaxxxxxxxxxxen 10/05/12 81.19
Edxxxxxxxxxxonez 10/05/12 81.19 online
Rayxxxxxxxxxxedo 10/05/12 81.19 online
______________________________________________
Roxxxxxxxxxxzar 10/12/12 75
Luxxxxxxxxxxlez 10/12/12 75
Loxxxxxxxxxxna 10/12/12 75
Amxxxxxxxxxxdua 10/12/12 75
Juxxxxxxxxxxar 10/12/12 75
_______________________________________________
The rest of the book is empty but I wanted to share what I remembered with you for your records
Forgot the book at home on 10/20/12 otherwise these people would have signed the book
Josxxxxxxxxxxchley 10/20/12 $50 donation to Galveston Historical Foundation
Mrs. Josxxxxxxxxxxchley 10/20/12 " "
Ron wife 10/20/12 (her bodyguard wife )
Ron daughter 10/20/12
Ron daughter boyfriend 10/20/12
Ron daughter friend 10/20/12
The day of each event she received the money and could have paid us then or could have paid Galveston Historic Foundation then as well. We never helped you for the money. We did it because it was a good cause to help the Stewart mansion not be torn down
From: Cathy Nance <cathy_nance@yahoo.com>;
To: Chris Simpson <c_simpson21@yahoo.com>;
Subject: Re: blog post
Sent: Mon, Dec 24, 2012 7:24:08 PM
I sent Tracy a photo of the paperwork and typed it out to her the minute she asked for it and I realized I had it. I don't even know why she would need it to pay anyone. All it contains is signatures for a release. She had the money every week and could have paid us or Galveston Historic Foundation weekly but chose not to. The last time I spoke with her she pointed out that one of the places (living social) does not pay you until February. I don't even care about the money. She can take every penny of it and donate it to Galveston Historic Foundation. We never helped you because of the money anyway. We helped because it was a good cause to save the building!
What does this mean….. "is this something you want to get into I am a man of my words an I'm not gonna sit by an let you talk shit an not do something about it" I need to know from you if this is a threat?
What would the point be of meeting? What is there to resolve? What does do the right thing mean? I am not taking my blog post down nor am I posting it anywhere, doing radio shows etc. I have said my peace about the matter on my blog and feel better now that I have done it. For now it is up to whoever reads it to believe me or not. Feel free to take me to court. I will just come in with all my evidence to back up what I have written. I have witnesses, tape recorded conversations, photos, video, messages. I promise I do. If you do not believe me please sign the release form I sent or take me to court for what you consider slander. The truth is not slander
Cathy
From: Chris Simpson <c_simpson21@yahoo.com>
To: "cathy_nance@yahoo.com" <cathy_nance@yahoo.com>
Sent: Monday, December 24, 2012 1:35 PM
Subject: Re: blog post
Look the release is on the radio I don't threaten . I'm stating a fact you keep starting shit with my wife an your gonna have to deal with me. It's easy to say shit but like she said why make statment show you proof along with it youre a sad bitter old woman you didn't make it in show business so now your grabbing at straws yes you have a blog you said some shit but when you were called on it you still have yet to post it nut up put it out there you just better be sure its the truth cause when it out there an is found to be untrue I'm coming to pay a visit
From: Cathy Nance <cathy_nance@yahoo.com>;
To: Chris Simpson <c_simpson21@yahoo.com>;
Subject: Re: blog post
Sent: Mon, Dec 24, 2012 7:58:54 PM
Please tell me what you mean by your coming to pay a visit? I still even to this moment am not calling you names. Why would you even do so? It shows your character. Please sign the release and send it back to me and I will post the information
Cathy
Mon, Dec 24, 2012 at 2:32 PM
Mon, 2:32 PM
Re: blog post
From Chris Simpson
To cathy_nance@yahoo.com
Again Cathy quit trying to makes this as I'm coming off threatening you cause I'm not we have called she did have the permission if she didnt again don't you think it would have been stopped along time ago .not to mention some of tour other claims as for the paperwork you want me take take your word over the paper work just send it to me that's final. An as for the recording what the hell ate you talking about you contradict yourself with that statement good cause yes but again you have recordings everthing she says is a lie your statement now as for the coming to Jesus moment think about what you told Tracy about your team members but I'm not even going into that that on your conscience not mine an yes as co owner I am responsible for my company but also as a husband you keep talking shit I'm gonna end it quit starting things look all you have to do is post your finding I've called you you don't answer I text you you still run your mouth but no proof you send emails still no proof you want me to stop you want Tracy to quit then do what you say she said her peice an anybody that ask she tell it like it waz you need to grow the fuck up act your fucking age an do what you intended to do with this did you think Tracy wasn't gonna respond I let it go on long enough I am co owner no just prove it or shut up the bad thing is you got me you made me mad you got under my skin yes but aleast I'm man enough to admit when I'm wrong an right now I'm not you are an you to sic or crazy to see it get some help an shut the fuck up
Dec 24, 2012 at 2:43 PM
Mon, 2:43 PM
Re: blog post
From Cathy Nance
To Chris Simpson
You just said "Again Cathy quit trying to makes this as I'm coming off threatening you cause I'm not" Then again you are stating now "as a husband you keep talking shit I'm gonna end it" does this mean you are going to kill me? Beat me up where I stop? Give me a hug? Quit talking in metaphors. I am not doing anything to stop I made a post on my blog and that is it. I am not "starting" anything. I am not doing anything but responding to you and not calling anyone names or anything. This is ridiculous! Why don't you show me your proof she has permission
Mon, Dec 24, 2012 at 3:01 PM
Mon, 3:01 PM
Re: blog post
From Chris Simpson
To cathy_nance@yahoo.com
Hey nice try with the release the radio gave you permission to release you evidence I agree with the top half but because you proof yet again I say is false when I does come out because you wont post it like you won't post Tracy retort to your claims is bullshit just stop an retire like you need to I'm going to leave this alone now I'm done just from this day toward you will not mention my wife my company nor my name this show the kinda of person you are I will be posting all of this emails text if I see or hear this again …you have the permission to post your evidence that's all but that's it eveything else is bullshit an you k.ow it I don't need the apology anymore cause it wouldn't be sincere cause your again a poor sick disgruntled crazy old bitter women prey,counciling , shaman whatever you need get help
________________________________________________________________________________________________
On the facebook page for Texas Ghost Tours they are threatening me yet again and asking for proof
I will now start posting what I have because I have verbal statements as well as emails. What I am posting today is the audio that I have gone back through and clipped out for you to listen to.
________________________________________________________________________________________________
The Evidence
I met Tracy at the East Texas Ghost Con on Saturday August 18, 2012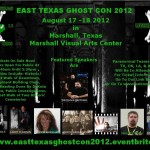 ________________________________________________________________________________________________
Daytime Tour of Stewart Mansion September 9, 2012
I started running audio right away in hope of collecting evidence (EVP) of a haunting
runningaudio
I say "Im running audio right now"
Tracy says "Oh, are you"
I say "yea"
We had just entered the building and it was amazing to be in such a historic place. She was working to raise money to stop Stewart Mansion from being torn down (Her goal was to buy the property). She was pointing out where she was going to put caution tape
working hard for
Tracy says "See what I'm working so hard at for"
I say "Wow"
Tracy says "yea we've got danger tape to tape off where people won't get into it"
I was following her on a tour of the building. We just entered the bathroom. She pointed out that this is where Marco Stewart killed his family and drained their blood in the bathtubs. I found no evidence in any record anywhere that he killed his family
blood in bath
Tracy says "Yea he murdered em and drained em, the blood in the bathrubs. The one the first bathtub and that's all I could taste is blood in there"
Further into the tour she talks about another bathroom where Marco Stewart murdered his children. She claims the library has his journals. She claims George Sealy, Marco Stewart and Lafitte were all involved in coverups. All of the information she shares is lies. These men did not all even live in the same time frame. Feel free to contact the Rosenburg Library to confirm that they do not have any journals from Marco Stewart or anyone on this property at 2310 Sealy St, Galveston, TX 77550 or call (409) 763-8854
Tracy says "That's where he did the two children"
Jordan asks "In here?"
Tracy says "no on the other side"
I ask "How do you know, I mean where he did?"
Tracy says "that's what's put in the journals in the Rosenberg library"
I say "Really?"
Tracy says "uhhuh"
I ask "they have his journals?"
Tracy says "uhhhuh. That's why I always mention"
Then I say "I just heard whispering"
Tracy asks "are they whispering in there?"
I say "no i heard it in here"
Tracy says "that's why i always mention George Sealy"
I say "ok"
Tracy says "because George Sealy had a lot to do with a cover up and so did Lafitte with coverups"
I ask "when did Lafitte die?"
Tracy says "He hhaha I think in if i wanna get it right it was like 1904 or 1995 but nobody knows exactly where. Some say he died in Louisiana some say he died here but yet he has a memorial and a headstone in Spain"
I say "wow, ok so when did Marco Stewart kill his family?"
Tracy says "oh crap what was that date … 1901 or 1902″
I say "oh wow ok"
Tracy says "yea"
I ask "when was this place abandoned?"
Tracy says "right after that because he burnt it and it has been sitting here ever since"
I say "wow"
Jordan asks "so nobody's lived here since then"
Tracy says "No huhhuh. He killed the whole Stewart family line"
Jordan says "oh wow"
Tracy says "there was nobody left"
I had the impression from her through conversations that this property although owned by a private party was also a part of the Galveston Historic Foundation properties. She was trying to buy the property and I had the thought she would be able to buy it from the Galveston Historic Foundation if she were going to save the building.
cost to buy
Tracy says "They have it umm"
I ask "would the historical foundation give you dibbs if you were going to resuscitate the property then if he was going to razz it?"
Tracy says "580,000 with all the property"
I say "wow"
Tracy says "which is that's actually not bad at all"
I am now asking about the owner and she tells me he doesn't even live in the United States. Stewart Mansion Owners Todd and Laurie Edwards live in Houston. They own Stonehenge Company which is located at 9025 Ruland Road, Suite B1 Houston, Texas 77055 an their office number is 713.355.8855
owner out of states
I am asking about the owner "So the guy thats the guy thats got it…"
Tracy says "he doesn't even live in the United States"
She volunteers information to me that the Klinge Brothers donated $1000 on her behalf to the Galveston Historic Foundation. I was assured that this did not happen
ghostlab
Tracy says "The Klinge brothers sent a check on my behalf to the Galveston Historical Foundation for $1000″
I say "wow how sweet"
Tracy says "i was shocked"
I say "yea, they are sweet"
We are walking through very tall grass and I suggest we need a lighted path. She talks about bringing riding mowers or weed eaters to cut a path and then is going to talk to the Galveston Historic Foundation.
mowing by the Galveston Historic Foundation
I say "wow somebody almost needs to come back here with a brush hog"
Tracy says "Yea"
I say "Well something that we can do, we could um, do like a lighted path"
"yea, cause I can get"
Jordan says "Ouch woman"
Tracy says "Oh, Are you ok"
Jordan says "Yea"
Tracy says "um a riding lawnmower if were gonna bring a riding mower to make a path"
You can hear her son talking in the wind
Tracy says "no to make a path, make a path not try to do the whole thing. Get a weedeater and kinda. I can talk with he Galveston historical foundation to see if they know anybody they cab get to donate their time to brush hog it"
As we are walking she was explaining Marco Stewart and Lafitte were coinciding together. Her proof is false windows, padded doors and the house being a maze. How could there be anything between them they were alive at different times? Jean Lafitte lived 1776 – c. Colonel Warren D.C. Hall then bought and the property and it burned down in December of 1925. George Sealy built the mansion in 1926. Marco Stewart then bought in 1933. Louise Bisbey Stewart (Marco's widow) was still alive and donated the residence to the University of Texas Medical Branch in 1944 along with her son Marco Stewart Jr. It then became a hospital for cripple children.
marco killed
Tracy said "he came in and Jean Lafitte would sneak in through the cove to hide here cause he had a mansion here first
I said "yea"
Tracy said "and then burnt it down"
I said "right"
Tracy said "and then this one was build and then he would still sneak up in here. So i think Marco Stewart and him had to be coincide. So that's the feeling that I get cause why would you make false windows and make em look fake and make them look like its there but nothing is there. And then the whole house is a maze, padded doors"
I said "that's weird"
"it makes no sense. But we did get a evp where I flat out asked Marco Stewart if he killed his family and he said yes so he did do it"
Tracy's husband is talking about getting in touch with the grounds keeper to mow a section. Tracy says he is gone and took off with everything. I ask if she told them she has permission. She says the police department has the copy of the paperwork where she has unlimited access to the property. He was always at the restaurant next door The Waterman Restaurant, 14302 Stewart Rd, Galveston 77554 409-632-0233. The police department has no copy of any paperwork 601 54th Street Galveston, TX 77551 (409) 765-3702
permission grounds keeper gone
Chris "You gotta see if you can get in touch with the groundskeeper cause if you can get in touch with the groundskeeper and get him to just mow a section around this"
Tracy said "hes gone he took off with everything and gone"
Chris "kids, those kids over there fishing come over here a minute ago and said they were with"
Her son said "they they owned the property or some kinda thing like that"
Chris "yea"
Tracy said "oh their lying"
Her son said "oh i know i know they were lying"
Chris said "he works at Waterford so when we leave here come Monday I'm gonna go to Waterford and I'm gonna talk I'm gonna find the kid and find out who, cause if they're here to spot manage and make sure no trespassing and all he"
I asked "so did you, you told them that you had permission?"
Tracy said "yea
Chris said "yea"
Tracy said "yea
Chris said "yea
Tracy said "yea the police department has has a copy of this where i have unlimited access to this"
I said "cool"
________________________________________________________________________________________________
Below you will find red links to listen yourself to audio files. I have also transcribed them for you as well.
Private Investigation of Stewart Mansion September 22, 2012
Tracy arrived after the tours and we met her at the road. She tells me there is a warrant out for the caretaker because they paid him to come cut the grass and he didn't do anything and took off with the key. She is waiting for a call Monday for permission to cut the lock and put a new lock on then give a key the the Galveston Historical Foundation. There was no warrant, he did not take off, he was always next door in the restaurant. The Galveston Historic Foundation has no right to the property so why would they get a key?
cut lock
Tracy said "they have a warrant out for the caretaker"
I asked "they do?"
Tracy said "yea"
I ask "really why?"
Tracy said "because uh a they paid him to come to do this
I said "ok"
Tracy said "and he didn't do shit and he took off with the keys so they're I'm waiting for them to call me back they are supposed to call me Monday um let me know if i can cut the bolts and put a new key on there and just gibe the keys to the historical foundation"
I say "ok"
Ken is asking who the owner is. She claims Lafitte Marine with an office in Louisiana but main office in the UK. She starts to say it took 3 months and I interrupt her. She then later says it took a month. I am listening to amplified audio trying to catch an evp. She talks about how this property is her baby and she will chain herself to the walls to prevent them from tearing it down. Again Stewart Mansion Owners Todd and Laurie Edwards live in Houston. They never gave her permission. Ken tried to find Lafitte Marine and the only place we found was Jean Lafitte Marine Fisheries Museum 2654 Jean Lafitte Blvd. Lafitte, LA 70067 or call (504) 689-2208. They do not own the property
uk
Ken asked "So who owns this place?"
Tracy said "its a company, its um, Lafitte marine they have a office in Louisiana but their main office is in the UK"
Ken asked "so are hey named after, their named after Lafitte but is there bloodline in the company?"
Tracy said "i don't think so I just think they called it that its in Lafitte, Louisiana"
Ken said "ok
Tracy said "yea it took me three months"
I aid "he was a very a famous pirate"
Tracy said "he was kinda like the jack sparrow back in the time is the best way to explain him"
Ken asked "so how did you finally track down the owners of the property or or or track down someone to give you permission?"
Tracy said "i found the realtor that sold the property, they told me who to call and i got a hold of the office that was in a in Louisiana then they gave me the number to call to the actual owners and it took me over a month to"
I said" here that's them for whispering"
Tracy said "actually make contact with the actual owner and I had to go through fax and emails"
I said "its really loud I'm listening to it live"
Tracy said "to get permission from them and then and then we faxed the paperwork to the police station"
I asked "it what?"
you can hear ken but cannot make it out
Tracy said "this is my goal, this is my baby here, this is what i want fixed so bad to the point it it literally when we were here during the day i almost started to cry didn't I Cathy"
I said "uhhum"
Tracy said "i want it fixed so bad i could care less about all which i am not going to say that because i do care but this one I don't know what it is I'm just drawn did someone just take a picture?"
Tracy's kids said "yes mom"
Tracy said "OK I'm just drawn to it. if I'm dead serious if they go to try to bulldoze this down i will chain myself to the wall they will not tear this down without taking me with it"
Ken asked "how much would they be willing to sell this little piece right here for?"
Tracy said "580,000″
Ken said "that's not terrible"
Tracy said "no that's not bad I mean considering all the property"
Ken asked "i mean what kinda area is that they're asking?"
I asked "is that the police?"
Ken said "no. What kinda"
Tracy said "no i just talked to them"
Ken asked "I mean what kinda what kinds area is that?"
Tracy asked "what?"
Ken asked "that price for i mean just like right here up at the front or"
Tracy said "no the whole the"
Ken said "whole plot"
Tracy said "the whole land"
Ken asked "how many acres is it"
Tracy said "shit i think its 10″
Ken said "10 acres that ain't bad"
I said "I think its more than 10 acres
Tracy said "yea it its quite a bit
Ken said "you'd have to dump about 2 -3 million into the house to get it back to its glory days"
I said "well, what they were going to do is they were originally one of the plans was to bulldoze this"
Ken said "you could get, you could get government grants though is you get from the historic society"
I said "another plan was to use this as a clubhouse and build houses around it and restore this somehow but they haven't done anything"
Ken said "sh sh sh"
She explains Marco killed his whole family and drained their bodies, tried to set the house on fire and killed himself. I cannot find any evidence that this is true. There are urban legends about this online. Anyone who does research on the property will find the urban legends not be true. Tracy is a sensationalist and a liar. I believe she does this to make the story more intriguing so you will want to spend money to investigate the property
family murdered
Because that bathroom there is where is where he drained his mothers body
I asked "ok, ok so who all died in here?"
um in the whole house his sister, and her two kids, his mother, and then he tried to set the house on fire and kill himself"
I said "ok"
Tracy said "that's the people that died in the mansion now on the property there was a lot of pirates"
I said "right
Tracy said "and cannibalistic Indians"
I said "right"
Tracy said "so there's various language barriers"
I asked her where he killed himself and she tells me he hung himself upstairs. I cannot find anything in the records where this is true. What I did find was that Stewart died before his wife and children in 1950, when he suffered a heart attack while driving home from a social event
marco hung himself
I asked "Do you know where he killed himself in here?"
Tracy said "he hung himself upstairs"
Talking again about murdering the family, he buried them and did the markers himself. Again I can find no evidence anywhere where any of this is true
he buried them
I said "Everybody know the legend that he chopped up his family and put their bones in the walls but"
Tracy said "yea and that's a myth that's not true. um I did find out that that's not true. he did kill them but he took their bodies and drained their blood into"
I asked "all of them?"
Tracy said "all of them and drained their bloods in the bathtub and then he buried them and carved into stones their names, he made the markers"
I said "ok"
Tracy said "so. Yea that the part about that's the myth about them being put into the walls"
The first time the police were called out from a group of about 8 people walking up on us then trying to damage the cars as they left. She says Detective Sims is her contact at the police station then makes the call. We all believe she is calling her contact. We are looking at our cars for damages. My car has been peed on both sides and Kens vehicle appeared like they had been kicking at the windows
police call
FYI this is too much for me to transcribe so just listen to it
I am talking about how we are going to have an issue with doing the public doing an events now. She tells me that is not an issue because an off duty police officer will be there. Ken asks about opening the gate. Tracy says she is bringing the bolt cutter and going to put a new chain and lock and is going to give the copy of the key to the police department.
cut the lock
I said "You know we're going to have an issue if we're um out here doing investigations with the public"
Tracy said "you know I've got that taken care of if we've got during the month of October we will have an off duty police officer out here"
I say "ok"
Ken said "ok"
Tracy said "and hes going to do it for me for free"
I said "ok"
Tracy said "so"
Ken said "I mean is there anyway we can get the gate open to actually pull our cars back into the property"
Tracy said "yea um"
I said "yea but even if we did I think those kids would have still"
Ken said "well no cause our cars would have been up close"
Tracy said "um, well I'm just going to bring the bolts and I will tell them I cut the bolts i got bolt cutters at the house and i will just cut the bolts and I will put a new chain and lock and give the police department a key"
Ken said "ok"
Tracy said "where i have a key and they have a key"
________________________________________________________________________________________________
First Public Investigation of Stewart Mansion October 5, 2012
This investigation went with no problems from the public. We had body guards, the property was mowed and the gate was open for us to come in. I collected the money and Tracy showed up to collect the money from me and get everyone to sign her book which she took with her.
sign in and paid
Tracy said "Just get it over with"
I said "I know. No I'm good for that"
Tracy said "sign in sheet"
I said "all good for that. ok yea everybody paid it'll go get you the money
Tracy said "ok"
I said "everybody is paid we want to get them to sign why don;t you go around and get everyone to sign while i am telling them their dos and don'ts"
someone from the group said "are we speeding up spreading"
I said "no"
Tracy said "No, everybody stays together
group said "good"
Tracy said "um cause there is not enough of us to you know to try to spread out so stay together. I am going to pass this around and i need everyone to sign in your first name and last name and today's date for me please except for us well crap
Before she left she was selling cameras to people who needed equipment. I am only posting this to show proof of aspects of her business dealings. She only has a DBA from what I can find in the records.
cameras for sale
Tracy said "Everybody has a camera that wanted one? I'm sorry"
We are asked how many times we have been on the property. I tell them twice and Tracy says well over a hundred. She comes onto the property 2-3 times per week. She never had permission from anyone and this is either a lie or proof of multiple times she has trespassed
at least over a hundred
A guest asked "How many times have you all been out here"
I said "I've only been out here now twice"
Tracy said "hahah do I have to tell the truth"
I said "yes"
Tracy said "Oh at least over a hundred"
A guest said "That's a lot"
Tracy said "So I come out here probably two three times per week"
This is Tracy saying she is leaving, taking Audrey with her to work and she wants us to drop off her security guards. I also explain to her that I am leaving early.
security drop and leave early
Tracy said "hey Cathy I'm gonna to head back over there for the tour he's already got people showing up for the 1030 tour and hes getting a little ooouch"
I said "hes getting overwhelmed"
Tracy said "yea um"
I said "are you taking Audrey"
Tracy said "yea when you all come through can you drop my a security guard guys off with me"
I said "umm"
Tracy said "right there"
I asked "when i come through when i leave at one o'clock in the morning you mean
yea?"
Tracy said "drop cause I have that 1245″
I said "Oh I'm sure I am leaving early"
Tracy said "ok"
I said "I'm leaving early"
Tracy said "ok just be sure"
I said "ok"
This audio clip is me giving the receipts and the money from the event
money given along with receipts
I said "do you need the a the other the other receipts
Tracy said "yea yea yea so I can review them. look hey Cathy my k2 is going off
I said "ok
Tracy said "it's a k2 meter
I said "ok"
Bryan said "Cathy"
I said "There's the money, here's change. How do I give you the change? Stick it in your pocket?"
Tracy said "yea I don't know what I have in that pocket but just chunk it in there I think my cigarettes are in there"
I needed to leave early to drive to Austin for a convention. Before I left I talked to our security to let them know what kind of a problem we had the week before. To clarify Ron was talking about his old man being an hpd lieutenant and that he used to work security.
security and leaving for Austin
Ron said "HPD lieutenant, used to work security at the parks, and I have done some security"
I said "Ok, that's cool"
Ron Said "I am hanging out here and watching right here because this is the only open spot where you can hear the chains that if anybody comes through here in over here"
I said "yea you don't have to worry about that yea what we had happen the last time somebody pulled up out here and they got out of the car to walk up there and when they left they were beating up on our cars"
Ron said "Oh ok yea we will stop them before they get even in"
I said "ok alright"
Ron said "have fun"
I said "ok we will"
I said "I'm probably only going to be here for another I've gotta think about it because it is a 4 hour drive for me to hit Austin"
Bryan said "4 hours probably"
I said "yea at the most I might leave 40 minutes from now something like that
its fine with me"
I said "Yea I think you guys can handle taking them around"
I left early to attend this event. Trying to do the right thing I helped Tracy before driving 4 hours to Austin.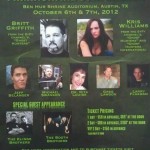 ________________________________________________________________________________________________
Second Public Investigation of Stewart Mansion October 12, 2012
I went by Tracy's tour to get the sign in book on the way to Stewart Mansion. She told me the gate was already open and the police were already notified that we would be out there.
We got to the property and had made several calls back to Tracy because the gate was locked. Josh said someone would come out so we were waiting for someone to let us onto the property. This audio is the guy with the key showing up to open the gate and let us in. We thought at the time he was the caretakers son but we believe this was someone Tracy sent to let us in. Dawn and Jordan are talking about the first evening there with the people hurting our cars and were drinking
guy with key
Jordan said "Someone was drinking"
Dawn said "yea hey were drinking and ghost hunting"
Jordan asks "then how did hey get past"
I asked "for us? hes gonna let us in?"
Whoever the guy with the key was said "do you need in"
Dawn said "we can move our cars in"
I said "yes yea we can move our cars in it will be safer for us to move our cars in"
Tracy did not call the police department to let hem know we would be out at the property and people across the street from Stewart Mansion called the police to let them know there were people on the property.
first call this night
I am not going to transcribe the whole police interaction here. You can listen for yourself
This is the audio where we were investigating inside and heard something outside. We walked out to see multiple people jumping the fence attacking our bodyguards. You can hear the commotion and gunshots. We call the police. The audio runs through the police showing up
gunshots
I am not going to transcribe the whole police interaction here. You can listen for yourself
When we come down to the gate we find out that beer bottles were thrown at the cars. We walked around to see if we could find any damage
beer
One of the guests said "Yea there was three cars that took off"
One of the guests said "who's white car is that cause they were throwing beer bottles at it"
Ken said "huh?"
I asked "the truck?"
She said "yea"
ken asked "the truck or the grey car?"
She said "the grey car. I know the car and the truck"
I asked "they were throwing beer bottles or cans"
Ken said "i was hearing beer bottles"
I said "so its possible that there is damage to the cars"
She said "probably is"
Ken said "now that we've got"
I said "i don't understand all these years of of"
Ken said "ghost hunting we've never had a problem"
I said "ever.. ok"
Ken said "you've got a dent right there"
One of the guests said "I know I heard beer bottles it was about to hit me
dawn said "yea they threw bottles over the fence so who knows"
The body guards (employed by Tracy) are explaining how it got started
drunk kids
Ron said "They were kids they were all underage. They all had beer on them.
ohhh
Ron said "the one that hit the phone out of my hand and the other one. who was causing the problem were so drunk they could barely talk
wow
Ron said "so we were being cool
Other body guard said "so we were being cool we didn't start nothing
Ron said "and there was one earlier when he asked me who said man he told the other guy I'm on papers he said i don't want to go to jail. He said lets just go. Hes the one who I talked to who got them to go the last time. So when they came this time"
I said "there's more sirens
Ron said "yea when he came this time he needs some new friends"
Other body guard said "yea"
Ron said "when they came this time he said they asked me look he said is it alright if we just wait over here were not going to cause no problem we just going to wait over here and before I could answer the other one slapped the phone put of my hand"
The other body guard said "he had com up here he had walked off again. That let you kn o he came straight up. We didn't even see him. he came up and slapped the phone outta Ronnie hand and then the other one, the other 2 guys stepped up so I stepped up cause I wasn't going to let those three guys get on him. Before you know it everyone was steppin up"
Ron asked "did they throw something when they left"
I said "Beer bottles"
We were on the property until the we hours of the morning dealing with everything that happened. I met Tracy at IHOP to give her the money from the event and to discuss what happened. She told me we would have the police out there the following week for the next public event. I forgot to give her the release form folder.
________________________________________________________________________________________________
Third Public Investigation of Stewart Mansion October 20, 2012
We decided to make sure the police would be present before we would go onto the property. We did in fact have a Galveston police officer on the scene when we pulled up. He was staying for the whole event to investigate with us and his wife. We felt safe to stay however we did not have any body guards present when we started.
This is the police officer saying he is going to stay outside with Ken.
staying out
The police officer said "I'm going to stay out here, I have been in there before. I mean I will go in there later on but"
He stayed outside to help with security most of the event because only one body guard eventually showed up.
________________________________________________________________________________________________
Fourth Public Event October 27, 2012
This is from her Texas Ghost Tours Page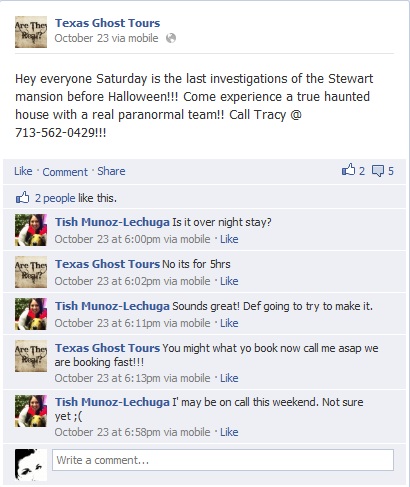 I called to confirm and was informed we had 6 paid people before I got into the car. By the time we were driving over the causeway she left me this message telling me she had to cancel Stewart Mansion because she needed all the help she could get on the tours because she had well over 100 people.
cancel
Tracy said "hey Its me call me asap were going to have to cancel the stewart mansion tonight. I need all the help I can get out here on the tour for tonight. We already have well over a hundred people for 8 o'clock"
I noticed the missed call and called her back. She explained the same thing as in her message. She told me she didn't have any security to help. We arrived at the location to help her we didn't do anything and we were confused as to why she canceled Stewart. She did have Ron at the tour to help her with security. We were confused as to why we were there because we were not her employees. She informed us that she was cancelling the remaining tours because she fired big country, Ron was going to be in Dallas and didn't have the help with security for the remaining weeks. All we did was walk with them for one 2 hour tour and leave to go eat. Everyone was upset. Nobody from my team wanted to go back after we ate. Also I had a bad stomach ache from eggs making their way into my food somehow. She had asked me to bring her back coffee but I was not feeling well. I called her to let her know that we were not coming back. She informed me t was alright because they already left.
________________________________________________________________________________________________
Tracy contacted me during the week of Feb 7th to say we have 20 people for Stewart Mansion that Friday. I remind her she had canceled and we already set up investigations. I told her I would ask if anyone would want to help her out. I got in touch with everyone but a few and let them know about the public event but nobody wanted to go at all. My group was officially done and would not help her out under any condition.
________________________________________________________________________________________________
She banned me from her facebook about a week after these emails
From: Cathy Nance <cathy_nance@yahoo.com>;
To: texasghosttours@yahoo.com <texasghosttours@yahoo.com>;
Subject: Stewart Mansion
Sent: Wed, Nov 14, 2012 4:10:18 PM
Just wanted to email you and find out if you got that check from groupon yet and when you think you will be able to pay the 30% of the moneys that were raised at the Stewart mansion investigations? Wish we would have had more people out there to raise money for the historical society. Have you already started your new job with them yet?
Cathy
From: Tracy Simpson <texasghosttours@yahoo.com>
To: "cathy_nance@yahoo.com" <cathy_nance@yahoo.com>
Sent: Wednesday, November 14, 2012 11:52 AM
Subject: Re: Stewart Mansion
I need all the sign in sheets and the grouppons that you have. So that I can do the math. The last one nobody got paid on. Everyone was free that day. The cop and Rons family. I told you I need those a couple of weeks ago.
From: Cathy Nance <cathy_nance@yahoo.com>;
To: Tracy Simpson <texasghosttours@yahoo.com>;
Subject: Re: Stewart Mansion
Sent: Wed, Nov 14, 2012 6:54:07 PM
I thought you got all the forms the night we came down last and you got the green book from Audrey. The last group didn't give me any groupons nor did the group before it was all cash which I gave you at ihop the night of the gun going off and police called out at the mansion. The first night you came and got the groupons from me and the cash as well. I know the first night we had 8. Some were cash and some were groupons (they all paid 81.50 each which was 75 plus tax), second night was 5 cash and none paid taxes it was straight 75 each (they all had the flier from dawns work that she handed out) showing 75), and the last night we there was rons wife and 3 kids plus police officer and his wife and right there as no money given to us at all nor groupons.
Cathy
From: Tracy Simpson <texasghosttours@yahoo.com>
To: "cathy_nance@yahoo.com" <cathy_nance@yahoo.com>
Sent: Wednesday, November 14, 2012 1:01 PM
Subject: Re: Stewart Mansion
No I never got the papers. You said they were in your truck then you left. And I didn't have a chance to get them. Remember that's the night yall went to get something to eat and didnt come back.
From: Cathy Nance <cathy_nance@yahoo.com>;
To: Tracy Simpson <texasghosttours@yahoo.com>;
Subject: Re: Stewart Mansion
Sent: Wed, Nov 14, 2012 8:04:37 PM
OK going to dig in the truck to find them
From: Tracy Simpson <texasghosttours@yahoo.com>
To: "cathy_nance@yahoo.com" <cathy_nance@yahoo.com>
Sent: Wednesday, November 14, 2012 2:05 PM
Subject: Re: Stewart Mansion
Ok I'm at the historical foundation. So txt or email me
From: Cathy Nance <cathy_nance@yahoo.com>;
To: Tracy Simpson <texasghosttours@yahoo.com>;
Subject: Re: Stewart Mansion
Sent: Wed, Nov 14, 2012 8:57:35 PM
I found the folder! Red with Stewart mansion in marker on the front. Inside is papers Stewart mansion paranormal class waiver. I need to get this to you but wanted to share the information in it
Alxxxxxxxxen 10/05/12 81.19 online
Caxxxxxxxxnessen 10/05/12 81.19
Shxxxxxxxxble 10/05/12 82.00
Doxxxxxxxxzza 10/05/12 81.19
Gwxxxxxxxxd 10/05/12 81.20
Kxxxxxxxxen 10/05/12 81.19
Edxxxxxxxxonez 10/05/12 81.19 online
Raxxxxxxxxdo 10/05/12 81.19 online
______________________________________________
Roxxxxxxxxazar 10/12/12 75
Lxxxxxxxxlez 10/12/12 75
Loxxxxxxxxna 10/12/12 75
Amxxxxxxxxdua 10/12/12 75
Juxxxxxxxxzar 10/12/12 75
_______________________________________________
The rest of the book is empty but I wanted to share what I remembered with you for your records
Forgot the book at home on 10/20/12 otherwise these people would have signed the book
Josxxxxxxxxhley 10/20/12 $50 donation to Galveston Historical Foundation
Mrs. Josxxxxxxxxchley 10/20/12 " "
Ron wife 10/20/12
Ron daughter 10/20/12
Ron daughter boyfriend 10/20/12
Ron daughter friend 10/20/12
________________________________________________
October 27th Cancelled because tours had hundreds of people needed all hands on deck to help
_______________________________________________
Remaining tours cancelled because of a conference and not enough help for security (Ron in Dallas/fired big country)
Nov 2 conference in Jefferson Texas
Nov 9 – called me to do this Nov 5th but we couldn't because we already scheduled 2 residentials
Wed, Nov 14, 2012 at 3:00 PM
Nov 14
Re: Stewart Mansion
From Tracy Simpson
To cathy_nance@yahoo.com
I told you that you had it!!! Lol
________________________________________________________________________________________________
This is the class waiver sheet with the names of the individuals protected. Every week Tracy collected the money from the events and knew how much was made. There was no reason to withhold money from Woodlands paranormal nor Galveston Historical Foundation due to not having this release form in her possession. I would also like to point out this shows her collecting taxes. The event was $75 per person and the first group of people on this list paid tax. I cannot find evidence where she has paid her taxes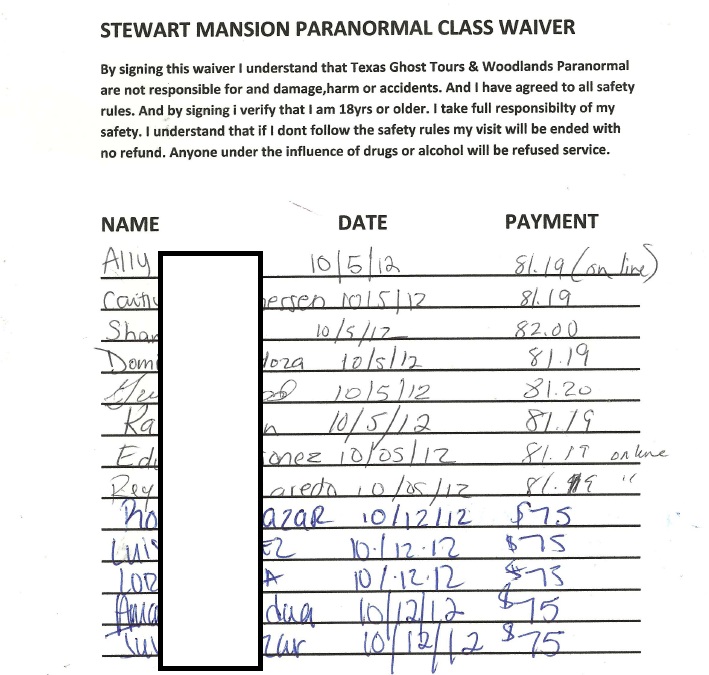 I was called by someone who I will allow to remain anonymous and told they called the owner of Stewart Mansion and found out she did not have permission. They also told me other things as well that made me start to investigate the claims. My group already knew she was not going to pay us but we did not know she was a con artist and everything was a lie.
________________________________________________________________________________________________
In all fairness I will post all of our conversations from facebook
conversation started August 25
10:21pm Cathy Nance
Hey there! Nice meeting you at the convention last weekend!
11:07pm Tracy Simpson
Hey!!!! Can I call you? Need a team for the Stewart mansion!!!!! Need help
11:11pm Cathy Nance
yes you can call house number is 83xxxxx858
12:27am Cathy Nance
this number is my cell lol the house is 83xxxxxxx3
September 4 9:54pm Cathy Nance
Would love to come and help you with your tours. I told my team to be waiting for Friday nights. Everyone is looking forward to it
10:24pm Tracy Simpson
Thank you Cathy.I also need a tour guide to do my normal walking tour. It does pay $50 per tour. Each tour is only 2hrs
10:29pm Tracy Simpson
Going to be starti the Stewart mansion tour/class on Oct 1st.
10:30pm Cathy Nance
Awesome. Would love to get in with you soon so we know what is up to help public
When are the tours?
10:31pm Tracy Simpson
I know I'm soo excited!!! Might have 3 other buildings also!!! Working on getting them now.
10:32pm Cathy Nance
Awesome Was with dawn yesterday talking about it. She is ready
10:32pm Tracy Simpson
Call me tomorrow if you can. I'm home all day. Cool!! Can't wait!!
10:33pm Cathy Nance
Ok will call you tomorrow
September 10 6:36pm Cathy Nance
what was the name of the road with all the deaths on it again?
7:48pm Tracy Simpson
22nd st. Right in front of the trinity church
October 2 4:16pm Cathy Nance
did you get my message that audrey was at a job fair today?
5:59pm Tracy Simpson
Oh yes my phone has been going off like crazy today
October 10 12:38am Cathy Nance
little girl Photo Stewart Investigation 1 Is this real or is this my eyes making a pattern. This Friday I will be trying to debunk this picure
October 14 10:29pm Cathy Nance
want to be on the radio call in now (773) 897-6151
10:42pm Tracy Simpson
Call now? I'm on there now!! I can here you
October 19 5:40pm Cathy Nance
http://www.hauntedchef.com/2012/10/19/stewart-mansion-investigations-2/
October 20 12:51pm Cathy Nance
Here is last nights episode where you can watch it online … we are the last 8 minutes
Episode 45 – www.biography.com
12:52pm Cathy Nance
your commercial I can also make one just for your business too if you like
October 30 1:00am Cathy Nance
One thing I didn't get a chance to tell you is that I was interviewed by the news about Stewart mansion and our group. The article is going to be in woodlands and in spring. Not sure if it is going to be in print or only on their online editions. Not sure how the article is going to get more people to sign up. Are you certain you are cancelling both weeks? What if another news agency contacts you or me? They thought it was huge and great trying to raise money for the historical foundation
October 31 1:29pm Cathy Nance
Been trying to call…. woodlands online published the article yesterday. Wanted you to know. Pauls nurse was here today for a visit and it went good. Paul's ear infections gone fyi yea….. what are ya doing?
October 31 5:16pm Tracy Simpson
I'm having a really bad day.
5:28pm Cathy Nance
sorry! I hope it gets better for you! You deserve a vacation! we are also on khou!!
it is awesome….. i would imagine bring in more calls for investigations
5:33pm Cathy Nance
I am going to stay home with paul whole the family goes out…. unless paul is in the mood to go then we can go along too…… i called to confirm Dec 8th with the woman at mayfield manor and she was super happy on the phone then got upset and told me do you know what day it is… call me next week to confirm
5:34pm Cathy Nance
i think she is just tired and cranky
November 1 11:55am Cathy Nance
The article doesn't say anything about stewart mansion, galveston historic foundation, texas ghost tours etc… it is just an article on the group woodlands paranormal. I went back and read it and the link at khou. When she called she was doing a follow up article on stewart mansion but did instead apparently just an article on the group. Not sure how to fix it or what there would be to fix. I did talk about you, texas ghost tours, stewart mansion how you were doing this to raise money to save the place and it was going to galveston historic foundation. Told her our group was into historic preservation and we do events to raise money. Told her that was the reason why we were invited to be the team to investigate the place. We actually talked for an hour and a half about many things. She brought up esp and I said that is a specific thing where we don't have that however we do have a medium etc… told her about members of the group things people did etc.. she didn't mention anyone by name but me.
12:05pm Cathy Nance
I feel bad that you are angry but am not sure what you are upset at. When she called me she told me it was a follow up article about the stewart mansion. I sent you the press release and that is what she had as well and why she called.
November 1 3:17pm Cathy Nance
Just called her and spoke with her for a good 45 minutes again and she is going to redo the end of the article where she mentions texas ghost tours.
3:23pm Cathy Nance
fyi paul has said your name 5 times in the last 10 min… hope you are feeling better.
3:25pm Tracy Simpson
Aaawwww give him a kiss for me. I've got 3 kids puking everywhere. And fevers as high as 103.8
3:25pm Cathy Nance
sorry you are going through the sickness
3:26pm Tracy Simpson
It was bound to come sooner or later
3:28pm Cathy Nance
They went in this morning and deleted
What the public is not aware of is that Woodlands Paranormal works with historical societies to preserve landmarks; they're a historical preservation group. One of the organizations they raise funds for is the Galveston Historical Society. One of their longer case studies is the Stewart Mansion in Galveston, working to determine or debunk whether or not the mansion is haunted. Having just returned from another excursion to the Stewart Mansion, you can follow the investigation and find out their conclusion on their website.
Not sure why she did not mention Texas Ghost Tours but she is watched the commercial and saw the flier and is redoing that part to reflect your company. I explained the money is going though Texas Ghost Tours, your the one who set it up and invited us to investigate with the public.
November 8 6:55am Tracy Simpson
Hey did you find out if anyone will be able to help me on Friday??? I'm like in dire need of help!!!
November 9 12:37am Cathy Nance
I gotta go to bed. Bed a really long day. The other team told me they already had plans but would love to go another time. I am still waiting to hear from bryan and cathy. Will let you know as soon as I know anything
November 9 6:05am Tracy Simpson
Don't worry about it. I have a team that dropped everything that they were doing to come help me. So no worries.
November 9 4:27pm Cathy Nance
Hey glad you got a team to go with you tonight. Wanted you to know I am telling people to call you to help maybe bring in more people for you tonight. Don't know how many places you have open for spots for people but thought I would send people your way I am looking forward to the pictures you guys get. I still haven;t found the time to post pictures from the last time we were out there. I still haven't talked to Bryan or cathy so I have no idea what they are doing yet
4:29pm Tracy Simpson
Thank you. We do have some space. Had some cancel found out they were pregnant!!!
4:30pm Cathy Nance
Well I hope you fill up with people tonight and have a good time. Take pictures! I have always got great pictures out there. Last time I still haven't uploaded but need to. Also take your shirts.. people like mementos. also take a ice chest and sell some drinks for $1 can or something like that
4:32pm Tracy Simpson
We are!!! If anyone calls you about it just send them out there
4:33pm Cathy Nance
I will tell them to all you first I could tell people how to get there but I can also just give them the number.. we have got crazy slammed with people wanting to come in but had no idea we were charging… call not all///they all got mad hopefully things go smooth tonight
4:35pm Tracy Simpson
It'll be fine!! If they do want to go the address is 14520 Stewart rd galveston 77545
4:38pm Cathy Nance
OK I can give them the address if they ask for it. I can tell them to go meet you out there and to call you too
4:39pm Tracy Simpson
That works!!! Out of 20 people we only have 5 coming!!!
4:39pm Cathy Nance
Well hopefully I can help get some more people out there
4:40pm Tracy Simpson
That would be awsome!!! Need all the help I can get!!
5:01pm Tracy Simpson
Now I'm down to just 3 people!!!
November 9:22pm
Tracy Simpson
Hey I get paid from grouppon on the 3rd. Send me your address and what I write the check out to so I can mail it to you. Sorry I haven't got back to you but I've been really busy!!
November 18
10:18pm
Cathy Nance
Got alot of stuff going on where I am not sure where I am going to be. So send the check to Bills office. Address to send it to is
Bill xxxxxxxxxxxx77041
Been very very busy myself
November 21 8:33pm Tracy Simpson
Hey call me when you get a sec. I've been trying to call you all day
________________________________________________________________________________________________
Here are some public remarks that groups have made
http://www.ripoffreport.com/texas-ghost-tours/tourist-attractions/galveston-texas-9751d.htm
Tuesday, November 20, 2012
Last Posting: Tuesday, November 27, 2012
Reported By: anonymous — Houston Texas United States of America
Phone: 713-562-0429
Web: www.texas-ghost-tours.com
Category: Tourist Attractions
Our group was contacted by Tracy to help her with a tours she was holding in Galveston Texas at the Stewart Mansion. We found out that she did not have signed notarized permission from the property owner like she claimed and we had been trespassing onto the property.
She claimed the owner lived in the UK, Mexico, Saudi Arabia and other places but in fact lives in Houston. She claimed the permission form was on file at the police station and in fact had the police department fooled.
She claimed to work for the Galveston Historic Foundation and had been raising money for the properties at Risk. We were to help her to raise these funds for them. She did not in fact work for them, she was not on the board, she was not the chairperson for the board and had no rights to any properties in Galveston.
She is falsely now claiming that there was a dead body found at the property and that is why she had to cancel the remaining tours. There was no body, it was not cordoned off and was not quarantined. She was stopped by the caretaker.
Her regular ghost tour in Galveston is full of lies on the history. You can verify all the stories through the Galveston Historic Foundation yourself. The Island has a rich history that does not need to be embellished. The Normandy Inn is not what she claims at all! It was a boarding house for sailors
The Galveston Historic Foundation did not receive the thousands of dollars she raised over 5 months worth of collecting. The women's crisis center does not know who she is however she is collecting non perishable goods for them as well as the food pantry and toys for tots.
Beware!!! There are tours you can take that the history and the business is real. If you give her your money for an overnight tour you are most likely breaking and entering. Why would you give your money to a con artist?
________________________________________________________________________________________________
http://www.ripoffreport.com/tracy-simpson/questionable-activities/internet-internet-50ac8.htm
Submitted: Wednesday, November 21, 2012
Reported By: UpSET ! — Houston Texas United States of America
Tracy Simpson
Internet United States of America
Phone: 713-562-0429
Web: www.texas-ghost-tours.com
Category: Questionable Activities
Went on a tour with Tracy, Texas Ghost Tour, where she was paid cash for entering private property, of which she said she had written permission to enter this property, saying the owner lived in Saudia Arabia, which I did think was a bit strange. Allowing us to do a paranormal tour here, charging tax on ticket and signing waiver before entering property at The Stewart Mansion. Tracy also said she worked for the Historical Society and was chairman on the board there. She also took collections for the Historical Society, for the At Risk properties where The Stewart Mansion is listed.
Later, read a post on Tracy's website that the Mansion would be demolished on Dec. 15th, 2012. I decided to hunt the owner of The Stewart Mansion up online, to inquire to be sure of this date, as I wanted one more trip to the Mansion before being demolished, if this was in fact true. Within 10 minutes, I not only found the owners, Todd and Lori Edwards, of Stonehenge Real Estate Co., but I was also on the phone, talking with the owner, Lori Edwards. She stated she lived in Houston, Texas, #2: NO, it was NOT being demolished on 12/15/2012; #3: They had given NO ONE permission to be on the property.; #4: Anyone else caught on the property would be picked up by the police and taken to jail. So,Tracy has no feelings nor cares about what happens to the people she takes there, a they are looked upon as trespassing; breaking and entering. Not a pretty sight on your record when you had a clean sheet and the cost of getting out of jail, a lawyer and court cost and fees, could make it a very expensive trip, which most people would not even have the money to pay for all of that. All, just to line Tracy's pocket.
Then there's one lie, so I called The Galveston Historical Society next. NO, she does NOT work for them, much less a Chairman of the board. The only contribution she made to them was for $50., and that is because a policeman made a check out, made out to the Society. Lucky for him, that he wrote in, who it was for. All the cash contributions, never made it past Tracy's pocket.
I noticed on Tracy's website, she is asking for contributions for 3 non-perishable products each or an unwrapped boy/girl toy each for $5.00 per ticket for her tour. One is for Toys for Tots; Food is for Gleaning of the Harvest and Women's Crisis Center. I called Women's Crisis Center and I was informed, that NO, they do not have anyone actively taking donations for them, in their name.
It is a shame that Tracy is so believable, and spreading all this fraudulent stuff on her web site, it is so easy to believe. But she is a thief, liar, a great con-artist and I guess a bit stupid too, since I am sure, she thought no one would check on her fabrications. Had she never put that demolition date down for The Stewart Mansion, I would never have looked anything up. But her greediness has now caught up with her. She was hoping to get a LOT more business quickly, I guess before Christmas, and before, she knew she could not keep on going without getting caught. So that was her dead-line, I suppose, to con as many people as she could.
Also, on doing research on these buildings, on her walking tour, of which I was also on, her stories on these buildings are also fabricated, I guess to give them more scary appeal for her ghost tour. Galveston has plenty of true ghost and history without lying to the public, just to make a buck out of you. How outrageous !! She actually charges you money for her to lie to you and to allow you to the chance of going to jail on Felony charges.
I am definitely a victim,and hope and pray she can be stopped so she can quit taking people's hard earned money, expecting truth and only being lied to and conned.
________________________________________________________________________________________________
Tracy or Chris her husband responded with this statement
This is an out right lie!!!
AUTHOR: Anonymous – Friendswood (United States of America)
SUBMITTED: Monday, November 26, 2012
This is the biggest lie about Texas Ghost Tours i have ever seen!!!! Tracy never claimed to work for the Galveston Historical Foundation, although she has said that she volunteers for them. That can be confrimed by Angie Wierzbicki event/volunteer coordinator at the historical foundation. And yes Tracy is a volunteer chairman at the historical foundation. You can also speak to Matthew head of the heritage at risk program and see that Tracy has brought more than a $50 check in to them. And all the money is in their evelopes.
As for the Stewart Mansion, she was given the code to the lock. How can 1 person so call con a whole police department, come on now that is just utter bull and the person that wrote this report should have done more reach on this before accusing and name calling. Also no one has worked for Tracy for 5 months and she didnt raise thousands of dollars like is said in one of the reports against her. She doesnt even ask for people to donate on the tour!!! Its people like the one who wrote this that make it hard for others to have their own business and try to help.
As for the food pantry call them and ask to speak to Vikki. If Tracy was so greedy, why would she give $5 off for 3 can goods when in fact she would be loosing out? Come on do the math!!!!!! I can tell you that the group that wrote the 2 reports against her did this because she had to cancell the Swewart Mansion do to being mislead herself. And as for her tours she gives everyone the info that they need to research it for themselves. If someone was lying why would they tell them where to look and how to find it???? Like i said the reports wrote on Texas Ghost Tours are out right lies by someone who didnt get their way!!!
________________________________________________________________________________________________
http://www.ripoffreport.com/texas-ghost-tours/tourist-attractions/galveston-texas-9751d.htm
PM investigations
Houston Ghosts
response to allegations of composing initial report as well as our encounters with Texas Ghost Tours Tracy
AUTHOR: PM investigations (Houston Ghosts) – Kingwood (United States of America)
http://www.facebook.com/houston.ghosts?ref=ts&fref=ts
SUBMITTED: Tuesday, November 27, 2012
We are a small Houston-area based paranormal team that was contacted by Tracy Richardson (Coulter,Simpson) on Oct. 5th via Facebook. We sent comments back and forth and on Oct. 7th we recieved a voicemail from Tracy offering us access to Stewart Mansion on Galveston Island for an overnight investigation. We booked the night of November 17th and had an initial group of 20 (which shrank down 15) set to go for $60 per person.
As the date drew near Tracy contacted us on Nov. 8th and asked if we were willing to go down to Galveston the next night and help her with her tour by providing technical and equipment know how and tips on ghost hunting to the tour participants.
As we were getting in the vehicle to leave on Friday Nov. 9th we recieved a call from Tracy who was calling to tell us that the tour had been cancelled. When we asked as to the reason why she told us that there was a body found two days before on the property with a gunshot wound. She went on to say that the property had been cordoned off and quarentined by the police and that we may not be able to go on the 17th as scheduled.
On Nov. 13th we recieved a call from a person, who we shall call "Jane", claiming to have done research on some of the claims that Tracy has made about Stewart Mansion and it's property owners. Tracy told us that the owner lived in South America and was getting ready to demolish the mansion in order to build a teens night club within a year. After the "body" was found she told us that the demolition had been moved up to Dec. 15th by the owner.
"Jane" had found that the mansion, as well as the restaraunt adjacent, was owned by a couple who also own a real estate company based in Houston. After calling the owner she found out that Tracy had lied about the mansion being demolished and having legal access. The owner went on to say that they have evidence that Tracy has been cutting locks and possibly tearing down "no trespassing" signs on the property.
After learning this we called the Galveston Police Department to find out if a body had indeed been found on the property. The head of the homicide division stated that no body had been found on the island in the last week. We then called the Galveston Historical Foundation that Tracy claimed to be the chairman of the board on.( initially she said she just volunteered with them)
Jamie, who answers the phones at the GHF, told us that Tracy was not affiliated with them anymore after briefly doing some work with them. Tracy told us that 100% of the procedes went to the GHF to try and buy the mansion from the owner. Other people we have talked to have claimed that Tracy told them that 50% of the proceeds went to the GHF.
On Nov. 21st, Tracy called us wanting to know if it was us who posted a report about her on this site the day before.We confronted her with some of the details that we have learned that seem very incriminating and now she is claiming that we were responsible for the report.
WE DID NOT MAKE THE INITIAL REPORT!!!!!
We will not stand for this con artist besmirching our hard earned reputation!
P.S When we file a report on someone, we put our name at the top!!!
________________________________________________________________________________________________
http://www.ripoffreport.com/texas-ghost-tour-tra/liars/internet-internet-6cbd0.htm
Submitted: Thursday, November 29, 2012
Reported By: Anonymous — Dallas Texas United States of America
I too was was a (victim) and I don't use this word loosely, of Tracy Simpson. I excitedly, as well as, confidently left my home and ventured out into a tour that I thought I was lucky to participate in. Not only my group but my friends and I were paraded around Galveston in a detailed ghost tour. We also were lead and allowed to enter and investigate a wonderful older mansion(Stewart Mansion). To my astonishment and disbelief most things that were said and explained as truths and so called details were nothing but fabrications of the truth and of a deceitful imagination. Why would I say this? Why would I say such harsh things? Let's review: Stewart Mansion- We entered this property and investigated it inside and out all the while…and unknown to us we were trespassing. She (Tracy Simpson/Texas Ghost Tours) verbally told us that she had written permission to be on the property by the owners themselves. She also went, as far as, to tell us where the owners live( Saudi Arabia) which was falsified. ???? I found out later that she lied about the permission ,there for, putting my friends and I at risk of criminal trespass(unknowing) as well as risking our safety.. We put our confidence in the fact since she had permission that the grounds were stable and safe….The Tour- We were directed through Galveston, Texas on a bogus ghost tour…She showed us buildings, in which, she made up and fabricated the history in the form of her own words. Stating these places were used for one thing but indeed were factually used for other things.The Money- And here is the most unforgivable part….She took money for all these things.She stated that these funds were for the Historical society. Tracy also told us that she was part of this organization…(chairman of the board). and unbeknownst we found out that this money was going into her pocket and not to the proper authority.Conclusion- I can not speak for all that participated in this mess but I can assume they would agree…. we take what we do seriously and appreciate the opportunity to be involved in our history. To be lied to like this is absurd and just beyond wrong. Using people is bad enough but to falsify endorsements for your own gain and using peoples hard earn money to line your own pockets is appalling. Lets hope she will be stopped and no more victims will be out there…
________________________________________________________________________________________________
When Tracy did her blog talk radio show Pat from San Jacinto County Paranormal posted this response to Tracy
This blog (meaning her blog talk radio show) is so full of lies, as I made the phone calls that got the ball rolling, when I found the true owner of Stewart mansion lives in Houston, Texas, not Saudi Arabia, nor the Uk, nor South America as she claimed. NO, she did NOT have legal permission as she told all of us. Took me 10 minutes to find the real owner and be on the phone with her at Stonehenge Real Estate. I was told anyone else that enters that property would be arrested and going to jail as we are breaking the law. Tracy is trying to hang onto her reputation, which has already gone to shit with Stonehenge Real Estate and The Galveston Historical Society. Of all the monies donated for the Historical Society, ONLY $50. was given to them, which was a check, written by a cop. Once I talked to all of these people, I immediately contacted Houston Ghost to let them know, that they were also being conned by Tracy before they handed their money. They wrote a ripoff report about it, and called me "Jane" in their report, to protect my identity. Which I don't care. I was NOT happy being lied to and had the chance of being thrown in jail, when I have a clean record, and she did not care ??!! I was there when she also hired a member of Woodlands Paranormal and discussed her reading paper that discussed the tour before she went to work for her. I am simply amazed at the lengths she is going to, to cover up her lies. Sadly, some people will believe her. I am not a member of Cathy's team, and I am a witness to her con artist job. This has nothing to do with paranormal unity, this is a BIG CON ARTIST Job performed by Tracy. What got me researching ? When she said Stewart Mansion was being demolished Dec. 15th. I decided to find the owner, to see if this was true. Which was another LIE. I am sure it was to get people to rush out, buy tickets to her tour, because the chance of going there was running out. Unfortunately, I learned that I should have researched first before going to The Stewart Mansion. Anyone that wants to know the real truth, just contact the Galveston Historical Society of Texas and Contact Lorie of Stonehenge Real Estate located in Houston, Texas. We went for Paranormal reasons, unfortunately, Tracy had her deep pockets in mind for herself. Being in the Paranormal, believing she was sincere, we believed her. If I was her, I would hang my head in shame and quit continuing on with her lies. She says she will have video proof in the future of proof of permission to go on private property. Unfortunately, she did not with The Stewart Mansion and never would have been able to produce one, since they said their insurance will not cover people going on this property, as it is dire need of repair. I am happy I got my chance to have been on one investigation; just wish it had been a legal investigation. Thanks Tracy, for giving me the opportunity, to have been taken to jail and starting a criminal record for me. I thank God, that, it did not happen.
________________________________________________________________________________________________

Other
From Tracys radio show:
Get the lies right and get it all right. If your gonna lie lie right
Why would anyone need to get a lie right? Isn't it better to always tell the truth. If you tell the truth you never have to remember anything you ever say.
Video footage of cutting the lock off
There's so called video footage of me cutting the lock and removing no trespassing signs and things like that. If the videos out there then show it you know don't claim it and things like that
I am not claiming that I have video footage of her cutting the lock. I do not need to show the video footage in order to prove my claim that she cut the lock off. I knew she was going to cut the lock. I have provided her own words to you that she intended to cut the lock. We were told she cut the lock which was not a surprise to us because the caretaker had taken off and the owner was out of the country according to her. When we called the owner about permissions we were told that they have video footage.
If Cathy Nance will call in right now right this very minute and tell me and show the proof. Post in on facebook on her blog I don't care how she does it. Prove it that I was in the wrong in anything that I did, I will step away, I will no longer do my ghost tours which is a part of my household income that helps pay my bills. And also I will have nothing to do with the paranormal whatsoever. If she cannot pull up that proof like these so called recorded conversations or video footage of me cutting the lock or anything like that… she has to step away from the paranormal herself no woodlands paranormal, no haunted chef, no dealings with the paranormal whatsoever. I think that's a fair trade. I'll step away if she can prove that I'm lying and I'm in the wrong I'll step away from it all. But if she's wrong and she can't prove it and she's just trying to throw that out there to get one of those little poor pitiful me things then. Hey then you've got to do it too. I'm not afraid to step out there and put my neck out on the line and take money out of my kids mouths to feed my kids on a ghost tour company that is nothing big big, nothing big at all. It's a little thing that I do because I do have a day job you know just like everybody else. I do not have time for the drama and the little he said she said crap. Lets get it out there. You know don't pass this back and forth where oh well so in so said this or so in so said that. Get the balls and call in and tell me yourself
I couldn't call in because I had no notice she was doing this show. I have been banned from her facebook since before Thanksgiving. My question to her is this are you going to step away now? I expected to have honesty with someone who owns a business dealing with the paranormal. It is people like you who cause the drama not me. I suggest you think about what you have done and what you want to accomplish in the field you are in. I also suggest to anyone reading this blog to please reconsider doing business with this woman or her company.
When I was doing the Stewart Mansion events I was given permission. They are saying I conned a while city and a police department. You know there is a lot of things I am good at but conning cops is not one of them
She was never given permission according to the owners. They did not provide her with a document stating she could have unlimited access to the property. It is not on file at the police department. Show the document Tracy. You don't have it. We never saw it but she talked about it all the time.
Say it was a dangerous situation
Say it was a dangerous situation. If they said it was a dangerous situation why would somebody bring an 11 year old little girl out on an investigation when there has already been one incident before hand. Come on do the math it makes no sense
You can hear the audio above and make a determination if you think the situation that night was dangerous. Here is the audio from that night. gunshots. Ken's daughter was in town and she knew he was not going to be able to attend unless he brought her out so she agreed. We had security present and the week before was just fine with no problems. We were not anticipating having a night where we were in danger at all.
She's put on here that she my team and my bodyguards didn't never showed up and when they did they were late and that they had the keys. Uhh I gotta a little lie on that one that's one of the biggest lies out of the whole thing. I personally took the keys to the caretaker met that are right next door, i don't even have the keys never had the keys. The combination to the lock wasn't even given to me it was given to my bodyguards to tell me so that they didn't have to come out there and unlock those locks every time I was there. So does that make sense no so that's a claim that's been busted or as we like to say in the paranormal debunked
This is hysterical and and any lawyer would have a field day with just these comments. 1. If you never had the key how could you be the one to give the key to him? 2. The property does not belong to you so how do you have the lock? 3. How can you take a key to a lock that doesn't belong to you if you didn't have the lock to begin with? 4. If the body guards never had the keys why would they need to be given a combination so they didn't have to unlock those locks every time you were there. 5. You just pointed out that the caretakers were right next door but repeatedly told us that he had taken off and could not be found. Just because you say something has been busted or debunked does not make it so. LOL. You know you cut the lock and that is why you had the first key. The combination was given to everyone because the new combination lock was handed to us by Ron's wife in front of a police officer.
You know I am going to be looking into the whole situation about the gunshots that she's got claimed on here. We'll see what we come up with about that one. You know because I'm hearing two different stories. The story that was told to a police department and the stories that came from the guests that were out there that evening that were you know sent out there by team members of Cathy Nance's team so we'll put a stop to that
Back to the gunshots being "claimed" by me. I posted the audio and anyone can hear that in fact they did happen. The guests that were out there that night came from advertising that was printed out by one of our group members. So they were not "sent" by anyone. Why deny that there was a problem that night? Clearly you hear that we are on an investigation and when we go outside there are numerous people fighting with the body guards that were employed by Tracy. You clearly hear gunshots. It was a dangerous situation for anyone to be in. Here is once again the audio from that night if you have not heard it. gunshots
You know if you're gonna say something don't twist the words, say it right, tell the truth. You don't make, you can't say a lie on somebody and then make another lie to cover that lie because then you start forget it, starting to forget your lies that you started and it ends up getting worse and worse and worse and it doesn't work out for the best for anybody and it makes the whole paranormal field look like a big joke and it's got to stop
I agree completely. I would like to point out that lies happen in and out of the paranormal field. They make the person who is lying look like a joke not an entire field of study.
So call hired one of woodlands paranormal team members
Also there's another claim on there that, you know Ive so called hired one of woodlands paranormal team members to be a tour guide for my tour company. Anybody that is going to run a business is not going to hire anybody who does not have reliable transportation to get back and forth to work. When they get interviewed to check and see if they'd be able to do it, if they are going to walk around during during a tour and telling your guests that paid money that they'd been walking around and farting all the time and that they're out there bored why would I hire somebody for that. You know that's putting my business on the line because I'd be hiring somebody that's not capable or mature enough to do it. The same person that I am talking about is one of Cathy Nance's little team members, her mention to me was that the person that I was going to attempt to hire, if she could do it was unstable and that her mother, who is also a team member of Miss Cathy Nance's is unstable, and that her mother was jealous and didn't want her to have the job. So hey walk like a duck and talk like a duck
She interviewed and hired my team member. She didn't so call do it, it was done. We were out there one week as a group with our member learning everything she could. The following week she was dropped off for the entire weekend. There was reliable transportation. Our group was going to drop her off on the way down and she was going to drop our member off on the way to take her son home on Sundays. I have never seen this person walk around farting. She was in fact excited to have a job and was studying. I never said she was unstable nor did I say her mother is unstable. They are both terrific team members. Why would her mother be jealous when in fact most parents want their children to make money? What do you mean by walk like a duck and talk like a duck? You did not pay her, provide her with the script for the Normandy Inn nor the script for Durst property. She did not go back and I do not blame her.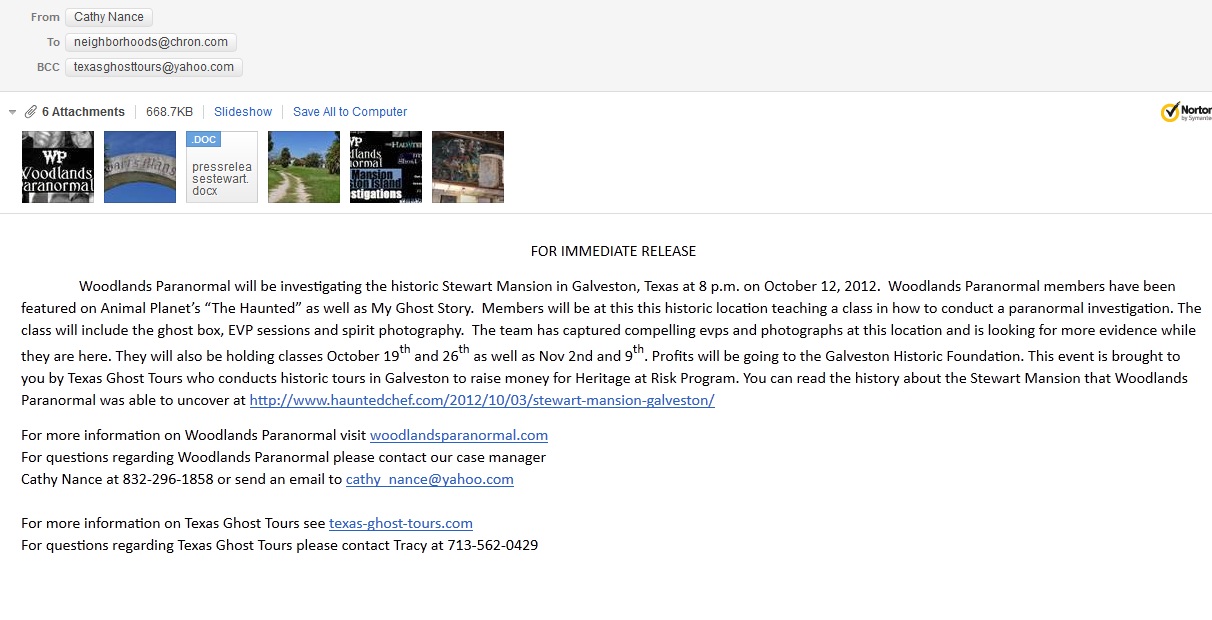 This is our press release. She was included on every email we sent out to the press. It is not only about our team as includes information about Tracy.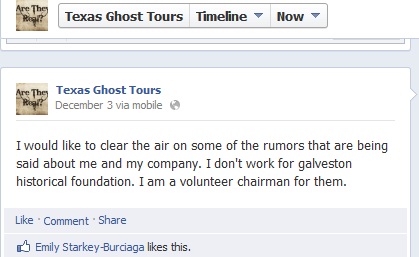 She is telling the public she is a volunteer chairman. According to the Galveston Historic Foundation she is not
Collecting for toys for tots but they do not know who she is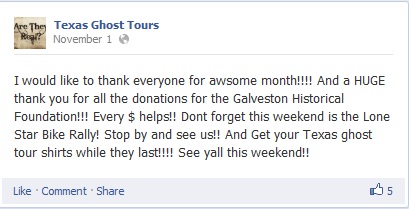 Thanking the public for all the donations which Galveston Historic Foundation did not get

This is a post about her t-shirts for sale. Se also sold drinks, snacks, cameras and other equipment. I am only posting this because part of her business dealings include not having all the licensing. She collects taxes but I cannot find where she is paying them.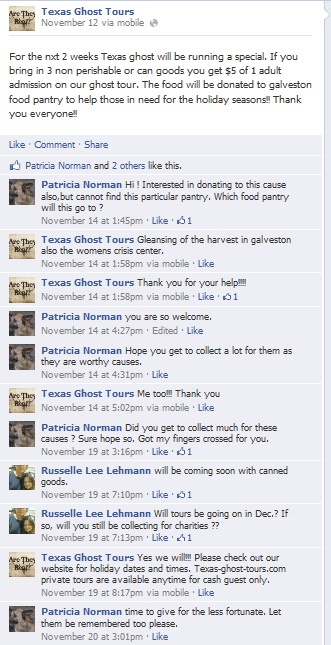 This is about collecting food for organizations that have never heard of her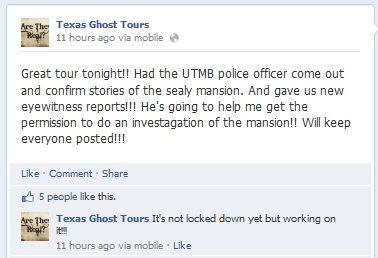 The Sealy Mansion is owned by the Galveston Historic Foundation. If she is so in good with them why would she need someone else to set up an investigation for them?
Right now all she is doing is smoke and mirrors to try to make you look at something different than what the problem is. She never had permission to go onto the property. She did not donate the money raised from months worth of working hard to save the Stewart Mansion. I have more to post but I feel like I should post what I have written up so far. This has been many hours of work to put together. There are many more hours worth of footage and audio left to go through.