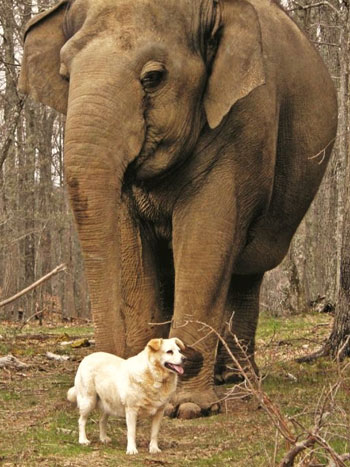 When elephants retire to a sanctuary they usually bond with another elephant to live out their final days. Tara the elephant and Bella the dog were an unusual pair and inseparable for the past 8 years. They did everything together including eating, drinking, sleeping and playing together. Even when Bella got a spinal cord injury, for three weeks Tara held vigil outside the building where Bella was being cared for.
Bella passed away last week after most likely being attacked by coyotes. Her friend Tara carried her body back to the barn where they spent much of time together. Since Bella has been buried Tara has gone back several times to visit the grave. Here is a video about their friendship that was put together in 2009
To read the tribute at the Elephant Sanctuary click this link
http://www.elephants.com/Bella/Bella.php
Here are some other unusual friendships
When Surya the orangutan met Roscoe the stray hound dog the two became best friends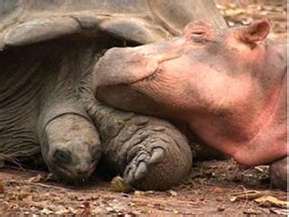 When Owen a baby hippo was orphaned after the 2004 tsunami, he took up with Mzee who is a giant tortoise and 130 years old. They have their own website here:
http://www.owenandmzee.com/omweb/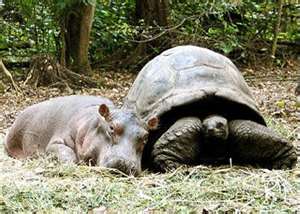 Cassie the kitten was abandoned by someone who threw her into a backyard. She was so small the homeowners thought she was a rat. Moses the crow  took her under her wing and began taking care of her. Moses would pull up grubs and stick her beak into Cassie's mouth to feed her.

Sierra was adopted by Sushi when her mother rejected her. Sierra is a tiger and Sushi is a mini pincher. Watch their relationship here