On August 31,1785 a horrible attack happened to my family where some people feel it left an imprint worthy enough to be investigated for paranormal activity. Polly Gear with Mountaineer Paranormal has investigated the property. One night she was able to capture an EVP after talking about the attack. She says "in this EVP, we are sitting on the spot where the cabin had been located, I am talking with my friend's little boy about the Indians. The little boy was saying, "It would be a wicked fight between the Indians and white people," and I agreed with him. Listen to the very end. You can clearly hear a raspy voice say, "white people."
Here is the EVP whitepeople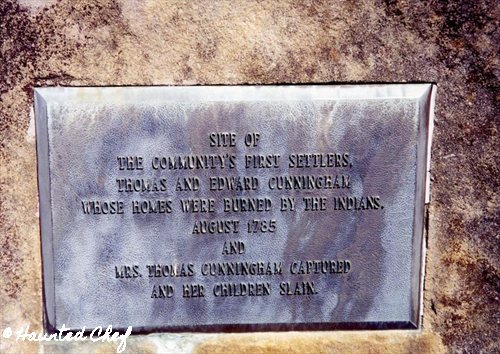 This is the story of what happened.
Edward Cunningham my 6th great grandfather and his brother Thomas had settled their families onto a farm in what is known today as Cunningham Run in West Virginia. Edward and his brother lived in separate cabins which were almost adjoining with their families. Thomas and Phoebe had four children: Henry, Lydia, Walter and Thomas.
Six Indians came up to the property while Thomas was away on a trading trip to Pittsburgh and one entered his house while they were eating dinner at the table. Edward Cunningham had seen him enter his brother's house then seized his gun and they all began firing at each other. The Indian in Thomas house was engaged in cutting a hole in the wall to escape out of the line of fire from Edward. After he made a hole big enough to escape he tomahawked Walter the two year old. He then motioned for Phoebe to follow him through the hole. Phoebe was forced to follow him with one infant in her arms and two other children clinging to her. When all were out he scalped the murdered boy and set fire to the house. They were watching Edwards door waiting for them to run out when the flame from the one roof jumped to his roof. Edward was able to extinguish the fire even though the he was being shot at the whole time.
Henry who was age 4 was the oldest son and Lydia who was three were then killed and scalped in the yard. After the hatchet sunk they took Lydia by the arms and legs and slinging her repeatedly against a tree until she stopped breathing. Phoebe and the infant were taken to a cave on Little Indian Run for the night. The infant was killed soon after and Phoebe was taken into captivity.
When the attackers withdrew in the evening Edward went with his family into the woods to hide. The next day they went to the nearest house where they gave the alarm about what happened to them. A company of men went in pursuit of the Indians. They found both houses burned to the ground. They buried the children and went off in pursuit of Phoebe but no traces of them could be discovered so the men returned to their homes.
Phoebe was held in captivity for over three years and was released in 1788 after a man named Simon Girty paid her ransom. Thomas and Phoebe were reunited but did not return to their farm on Cunningham Run where the Indian attack had occurred. They established a home south of Clarksburg and were blessed to have seven more children: Rachel, John, Sara Leah, Phoebe, Barbara, Benjamin, Eva.