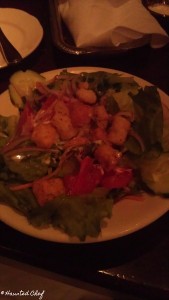 What can I say? I have eaten at another Pappadeaux location and loved it. This was a very different experience for me. The salad was dry and I could not find the waiter to get more dressing. I like salad though even when it is not properly dressed.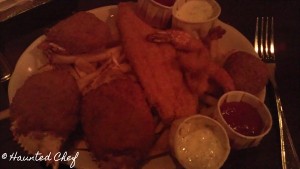 I ordered a seafood platter and was expecting something nice. What I got was enough french fries to feed an entire family. I had hardly any seafood on my plate but I had an overabundance of stuffing. All I could taste was breading with celery. It got nauseating after a few pieces. The platter also came with ketchup and tartar sauce in little paper cups. WHY? This is supposed to be more elegant than this. I may have given this place a better rating if the sauces would have come in metal or glass containers. I will never order the same food as it was worth eating.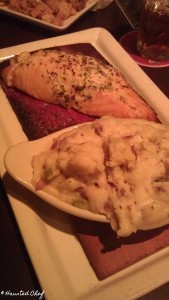 This was the salmon and was cooked to perfection. I would recommend ordering this dish although it would be better to go to another location.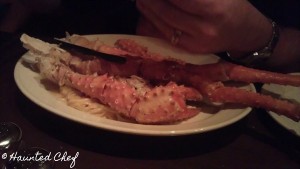 The Alaskan King crab turned out to be the best my friend ever ate. This place is now his new favorite spot.
I did enjoy the trio dessert. It is hard to mess up a prefab dessert though as it is only thaw and serve. How hard can that be? The banana pudding was on the runny side but was still good. I also had to find my server to ask for a spoon which he forgot to bring.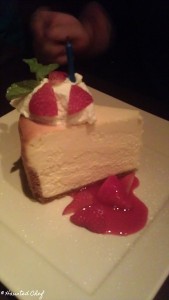 The cheesecake was also very good! I was happy that at least my fork from dinner was still on the table for me to use
Overall  I was very upset that although we spent $160 my food was no better than Long John Silvers. My friends also spent over $100. The service was also very poor. We sat for over 30 minutes before our waiter asked us what we would like to drink. He never asked me if he could refill my water. It was amazing how vastly different my experiences have been. Is it possible they were having an off night? Somehow I do not think so. Overall a waste of my time and a waste of my money. I did enjoy the company of my family and friends.
Perhaps I should give them another try. If I do I am going to ask for a different waiter and get a different type of dinner. This place is popular and perhaps really just had an off night.