A digital camera and an audio recorder are what all investigators should have on hand at the very least. I call it going "old school" and is what I rely on for every investigation. Seasoned investigators will add many more interesting items over time but still lean the most heavily on the camera and recorder. What is an investigation without attempting photos or evp work?
Next in line for the most bang is a video recorder. There are many kinds and honestly they all work. You do not even need night shot but it is a nice feature. Taking video in one hand with a flashlight in the other will produce spooky results. You don't just want to record in the dark anyway. You can even use your cell phone. Know that using a cell phone to get video can produce very grainy shots where it looks like you may have captured movement but is what we call matixing.
The next investment in equipment is to get an emf detector. There are many to choose from. My favorite is the KII or the ghost meter pro. With either device you can record a baseline reading for a room and then look for spikes. You can also use these devices for communicating. The theory is that the presence of an entity creates an emf disturbance. Asking the entity to touch the light can trigger lights from both devices and sounds from the ghost meter. I do not like the sound on because it interferes with my ability to hear audible voices or movement. Which brings me to the most important piece of equipment…. you!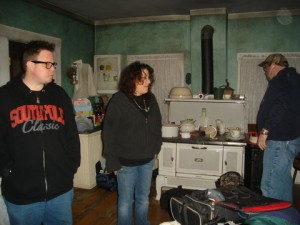 I will get into other more technical items in the future but let me talk for a bit about what I mean you are the most important piece of equipment. We have the ability to hear, see, touch, taste and smell our environment physically as well as use other abilities if you are attuned into them. Talking constantly on an investigation will ruin your ability to pick up on the environment. You will not be paying attention because you are distracted by what you are thinking, hearing yourself speak, and waiting for a response from others. Don't use the investigation for socializing. So just let it all go and use your senses.
Are you are passionate about the paranormal and helping others then take another piece of advice from me. Please get plenty of rest before you go on an investigation. It is a great idea to take time before you go out to clear your mind. Meditation or prayer before you go is great to put you in the mindset to tune in your senses. If you are rested you won't get tired so quickly in the dark
You cannot get anything from the investigation if when you go home you don't do the tedious task of reviewing what you got. Keeping up with the fact that you are the most important piece of equipment you should review audio, video and photos within 2 weeks. Why are you gathering data if you don't review it? Why are you at the investigation if not for the purpose of proving or disproving activity? Maybe it is time to take a break from investigating if the passion has left you not wanting to review anything.