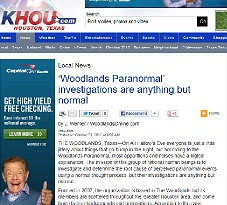 'Woodlands Paranormal' investigations are anything but normal
by J. Werner / WoodlandsOnline.com
khou.com
Posted on October 31, 2012 at 9:02 AM
THE WOODLANDS, Texas—On All Hallow's Eve everyone is just a little jittery about things that go bump in the night, but according to the Woodlands Paranormal, most apparitions and noises have a logical explanation. The mission of this group of rational human beings is to investigate and determine the root cause of perceived paranormal events using a normal thought process, but their investigations are anything but normal.
Formed in 2007, the organization is based in The Woodlands but its members are scattered throughout the Greater Houston area, and come from diverse backgrounds and occupations. According to the case manager, Cathy Nance, the eclectic group consists of skeptics, clergymen, public safety officials, and medical professionals, but not necessarily anyone with extrasensory perception skills.
"Our role is to investigate the phenomena using scientific methods and available technology, then make a rational determination," said Nance.
…….
Nance, a healthcare professional in the nursing field, will be speaking in Jefferson, Texas, on the topic of mental health. Her presentation is titled, "Negative Cases. Are the Voices Real?"
To read the rest of the story go to
http://www.khou.com/news/local/Woodlands-Paranormal-investigations-are-anything-but-normal-176584981.html