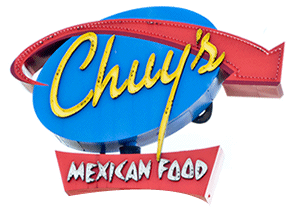 Shenandoah location
18035 Interstate 45 S
Shenandoah,TX 77385
Tex-mex with Elvis! I really like this place! The creamy jalapeno dip is something different on the table normally served with chips. It is addicting! That is not the only sauce they have here either. They actually have over 7 different sauces with different heat levels. One of my favorite dishes is chicka chicka boom boom. Hand pulled chicken with boom boom sauce that is made from cheese, mexican green chiles, tomatillos, green onions, cilantro and lime juice. The heat level varied from day to day depending on who is making it. I have made may way through the menu but have not tried everything yet. I am open to eating anything here though. To help you with making your food choices through the menu they offer specials to try different things every day.
From what I understand the very first Chuy's was opened in 1982 in Austin, Texas. It became a hit and began to grow. Usually chains do not do the same justice to food as one really amazing place. This is not the case with Chuy's. They really know Tex-Mex. They hand make their tortillas in an area where you can watch. Everything tastes this fresh.
The Shenandoah location as with most locations I have been to usually has a line of people waiting to be seated. Why? Because when you have good food people are willing to wait for it! Come ready to sit on the patio and perhaps enjoy a margarita.