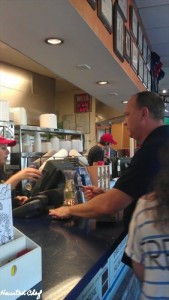 2520 Montrose Blvd
Houston, TX 77006
We had to come check out the famous Niko Niko's just for dessert. After all Guy Fieri has even been here before. For those of you who do not know Guy is the host of "Diners, Drive-Ins and Dives " which is on the food network.  After walking in the door my initial impression was this is a hip place. We did not have to wait long to place our order. Apparently they have many people eat here on a daily basis so they have to be fast.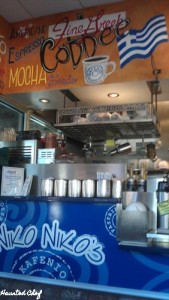 We ordered baklava which is fillo filled with ground walnuts & cinnamon with honey. It was good as baklava always is. The next thing we ordered was the chocolate koulourakia which are sugar cookies dipped in chocolate & were supposed to be rolled in walnuts but we not. They were exactly like what you would imagine they would taste like but were not very sweet. This would be a perfect ending for someone who just wanted a little something not heavy or sugar laden. The last thing we ordered was the loukoumades which are greek honey balls. I have never had this treat before so I did not expect that they would need to be made only after we ordered them. We sat down to wait on the chef to make them.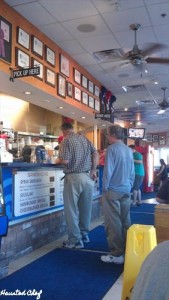 Like I said the atmosphere here is upbeat and hip. You feel like you are right next to a college with people pouring in the door the whole time with the line sometimes extending out of the door. I was amazed at how fast the counter people were at getting the new customers ordered and off to their tables. Scanning the restaurant everywhere we looked the food looked good and the patrons seemed happy. The upbeat greek music playing over the speakers was a little loud but fine for they type of place. Proudly displayed on the counter right by the cashier is a greek icon.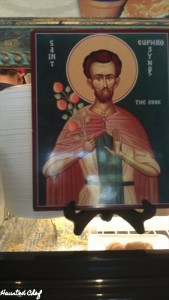 Our coaster pager went off letting us know we could pick up our order. Wow were we in for a treat! Imagine eating something like a funnel cake in the shape of a donut hole with powdered sugar over the top. When you pop this hot thing in your mouth unexpectedly it bursts with honey all over the inside of your mouth. YUM! We could not stop eating them. Actually I can see myself sitting there with a cup of coffee and a plate of these little honey balls every morning. We are now looking forward to trying out the savory side of this place! I will be writing another review soon.