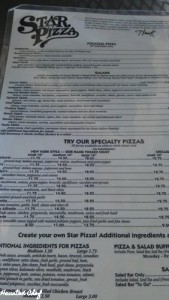 2111 Norfolk St
Houston, TX 77098
Last weekend we decided to go check out Star Pizza in Montrose. I have been wanting to try it because the ratings have all been really good and I really love pizza. As someone who has eaten food all over the USA I have had the opportunity to try some amazing places including pizza in New York and Chicago.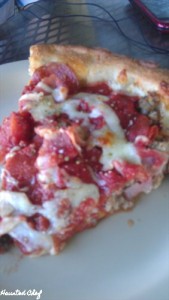 I really liked that this place is in an old 2 story house that was converted into a business. There is a covered porch along 2 sides of the building with a ramp for handicapped access. Under the awnings are outdoor fans to keep you cool and white christmas lights for evening ambiance. The weather was so nice that we decided to eat in the fresh air outdoors. The hostess told us that the waitress was swamped as we were seated. I knew from reading reviews before going to expect slower service than other pizza places. I was however, pleasantly surprised that the service was better than I expected.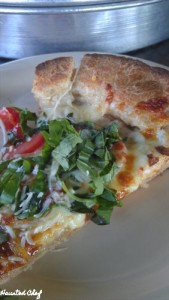 To start we ordered the garlic bread with cheese and a side of marinara  which was good. The bread was soft with a nice amount of cheese. We also ordered a half and half on whole wheat, deep dish style pizza. One side was a margarita specialty pizza which had roma tomatoes, garlic, basil, cheese and olive oil. The other side of the pizza was a Ben's which has ground beef, Italian sausage, pepperoni and ham.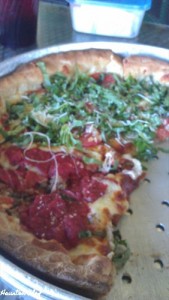 Both sides of the pizza turned out to be good. The Ben's side was the best because it was more flavorful with the fresh marinara being on the top instead of buried under the ingredients. This is the best pizza that I have had in the Houston metro area so far. Sadly, this is not the best I have ever had though. I particularly enjoyed the whole wheat crust and encourage you to try it as a healthier option. You cannot tell it is whole wheat until you get the end of the slice when it really comes through. I am looking forward to the next visit!