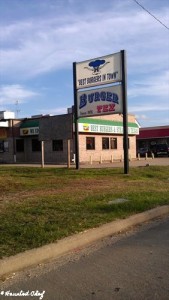 7040 N Eldridge Pkwy
Houston, TX 77041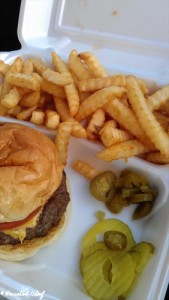 We went through the drive through to try what some call the best burger in Houston. At lunch time this place has a line out of the door. I was excited to try it knowing it is such high demand. When I opened the box this is what I saw. The bun is obviously handmade and just look at all those crinkle cut fries.
Guess that we paid???? A combo meal for $5.67 and then you build your own burger just like you can at a higher priced place like fuddruckers! So we went around the building, went inside and got all the extras we wanted including cheese on those fries.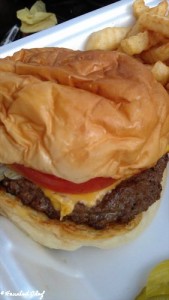 The meat was seasoned just fine, the flavor was good but it was dry. The star of this meal was that homemade bun which added flavor and appeal for me. The crinkle cut fries were also seasoned well. The burger was really good especially for that price!
If I did a comparison between all of the burgers I would not put this on the top of the list however. The meat was overcooked where the juices were not running down my arm. I really need that magic to happen for me to put it towards the top. For the price however, you cannot beat it! This is one place I can go back to again and again!